With all the media coverage of an imminent immigration deal in Congress, you would think that the latest stats from DHS would get more publicity. But they won't; it is a forbidden topic in the corporate media.
But that doesn't change the fact that 1,031,631 legal immigrants came into the USA in 2012. And we are on pace to set another all-time record for the decade of the 2010s. See the charts on my immigration page.
While the last jobs report delivered an upside surprise, the black unemployment rate remained unchanged at an appalling 13.8%. Why wouldn't our black president help a brother out and ease back on the immigration a bit? Answer: because Obama is just another in a long-line of neo-liberal presidents. "Black" and "Democratic" are just marketing angles. Obama has done nothing whatsoever to change the immigration policy: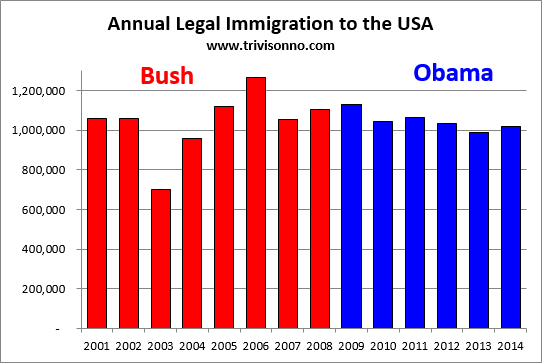 So, if you are black and unemployed, there is a good chance that you will never work again – ever. No matter what color the president is. The number of people clutching their resumes in line at job interviews is just going get longer and longer. And if you are over 50 years old, just forget about it. In fact, move to a civilized nation, like Canada or Australia. A place that isn't trying to be the next China with a massive population and rock-bottom wages.