SPY's ascending-triangle pattern is still intact after today's low-volume selling. A low volume trip down to the uptrend line (black) will be a very attractive long-side entry point. Click the chart to enlarge: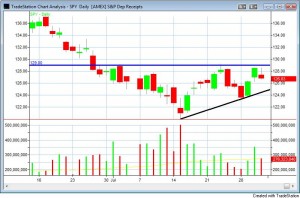 SPY also held above Wednesday's low. So, while today was disappointing for too-eager bulls, the market didn't do anything wrong technically.
If SPY falls on heavy volume, then the triangle will likely break down into a less bullish rectangle pattern, and require a scary test of the July 15th low.