The red-hot poker that stabbed the bears Friday and Monday afternoons was missing-in-action today. But it's not like they didn't try! Take a look at this minute chart of the S&P 500 futures showing the action around 3pm (click to enlarge):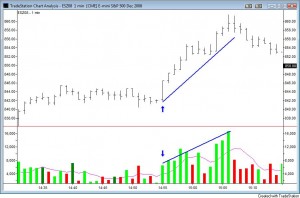 At 2:55pm, a surge of buying began that was 3 or 4 times the previous volume average. The previous chart pattern did not look like a breakout was coming and there was no news at the time. So, this was very likely somebody trying to run another last-hour squeeze play.
They got the futes up to 860, but could not spark another giant rally. Why not? Because the crowd is leaning long and they are fresh out of shorts to squeeze. I'll bet that they don't try again tomorrow.