The SPX has a potential head-and-shoulders pattern on its intra-day chart (click to enlarge):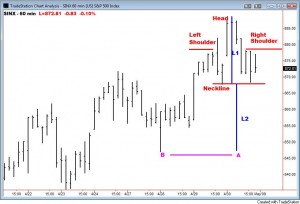 Blue line L1 measures from the head to the neckline, and blue line L2 projects that same length down to the price target at purple point "A" near 847. Following the purple line to the left from "A", we arrive at purple point "B", which just so happens to be the panic low from Tuesday morning – the den of fearless dip-buyers.
So, if the market wants to dive tomorrow, I will be looking for 847. Don't forget that with an H&S pattern, you want to see a surge in volume as the neckline is penetrated. Until that event, it is not an H&S, but just a bunch of squiggles. (You can look at SPY for the volume). Also, with the neckline so close at 868, it is possible for the market to gap right under it at the open.