Yesterday, I posted a chart of the SPX breaking out of its rectangular trading range. However, the small caps have not confirmed the breakout yet (click chart to enlarge):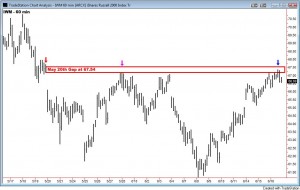 The May 20th down-gap serves as the upper resistance (red arrow and red box). Today, the IWM was able to fill the lower half of the gap (blue arrow) and exceed the peak from May 28th (purple arrow), but was unable to close the deal.
This is a key test to watch because the rest of the market cannot rally further without the participation of the small caps.