The VIX closed above its upper Bollinger Band on the daily chart Tuesday, and that's a pretty good buy signal: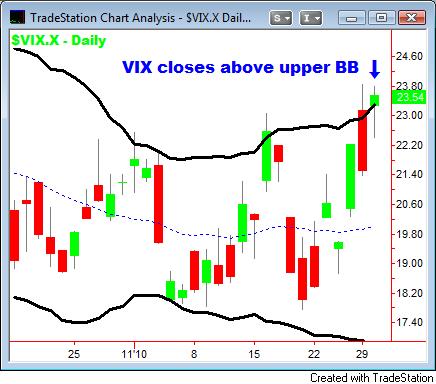 The last such signal was on November 16th, and was good for a 20-point SPX rally. The SPX did indeed print a Gravestone Doji for November on the monthly chart, but that doesn't preclude a little bounce here. While this VIX signal has a good track record, an intensification of the financial panic in Europe could easily blast the VIX higher.
China's PMI surprised to the upside Tuesday night, but the futures didn't bounce very much until three hours after that. So, perhaps it won't be a catalyst for the SPX on Wednesday. Jobs Fever will be taking hold now, and the estimate for Friday's big report is +168,000 jobs. If the number does come in strong, I will be interested to see if the market can steamroll the November Gravestone Doji or not.