Can this man save Sandland?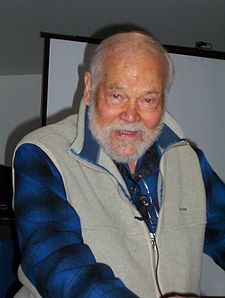 Well, he tried before he passed away, but nobody listened.
The great man was Jay Hammond, the Alaska governor who invented the Alaska Permanent Fund. That's the oil profit-sharing program which pays residents of Alaska about $1,000 each year. In 2008, the payout was $3,209.
That's real money to "the small people" here in food-stamp nation.
Hammond thought that we should have set up a similar program in Iraq to get the people on-board the nation-building process. But it didn't happen. And that tells you something about the way we conduct our empire: we are not serious about winning hearts and minds.
They said it would be wrong to "impose" such a program upon Iraq; that we would be violating the nation's sovereignty by dictating such policies. Sure, we could bomb the country back to the Stone Age, but we couldn't inflict a profit-sharing program for the people.
What BS.
In any case, if you are a Sandland dictator running low on bullets to shoot protesters, you might try a different tack: being less evil.
Sure, it sounds crazy at first, and it's not nearly as much fun as running people over with tanks. But you don't want to end up like Hosni Mubarak, do you?
And it's not just about passing out money. An Alaska-style fund is a shining example of transparent, accountable, professionally-managed government.
I might also add that the rest of the US states should look at profit-sharing programs. Surely the people of the Gulf Coast should get a royalty from GOM projects, no? And God only knows how much oil is off the coast of Florida. Maybe a profit-sharing program would generate political support amongst those pesky "small people".
I see Americans getting royalties for natural gas extracted from beneath their property. But what about the public lands in the lower 48?
Show me the money!
The 44 million people that we have on food-stamps are a potential political time-bomb. Why not defuse the bomb with an Alaska model that has proven itself for 35 years?
Our leaders here need to take a look at the less-evil program too.
Here is Jay Hammond speaking about Iraq: