The stock market has been rocketing upward for over a week now, so you might be wondering how my bearish call on Demand Media (DMD) played out. Did DMD catch a break from the frothing bulls?
Not hardly. As a matter of fact, there has been a distinct lack of demand for Demand. Here is a daily candlestick chart since I made my call on April 17th: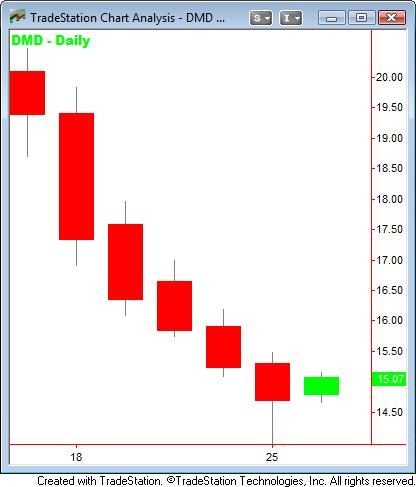 Down over 20%. How about that?
The moral of the story is that Google is a king-maker. If you follow their guidelines, they will list you prominently on their SERPs. If you cross them, they will lop off your head.
Take a look at the "stock market advice" SERP. In the #1 position you see fool.com. Google AdWords reports that about 2,900 people do that search each month, and I'm sure that fool.com ranks very highly in a multitude of related searches. Suffice it to say that at least a thousand fresh-faced investors are landed on fool.com's doorstep each month, compliments of the king-maker.
What's that worth?