While discussing the record-breaking level of immigration into the USA in my last post, I said that it was a deliberate campaign to beat down wages for American workers.
Maybe you thought that I was engaging in hyperbole?
Well, guess again.
Take a look at this specimen of corporate propaganda published by CNN (click picture to enlarge):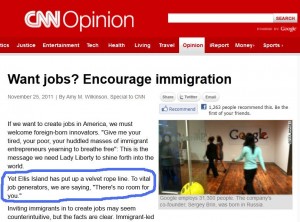 The statement:
"Ellis Island has put up a velvet rope line. To vital job generators, we are saying, "There's no room for you."
…is a direct contradiction of the official statistics published by the Department of Homeland Security. We are living in the highest-immigration period in American history.
Did this "journalist" and the fact-checkers and editors at this "news" organization even look at the stats? Clearly, not.
Now, I don't mean to single out Wilkinson or even CNN. I just happened to come across this story shortly after I published the immigration charts. As a matter of fact, if you keep your eyes open, you will see this same "story" throughout the media – from left-wing CNN to right-wing CNBC. From Democrat Mort Zuckerman to Republicans Larry Kudlow and Donald Trump.
But what about the argument? Is it true that we need genius immigrants to come here and create jobs for all of us lazy, stupid, uneducated, unmotivated Americans? Clearly not. Over the last ten years, we have brought in 10.5 million legal immigrants, and during that time poverty has exploded across America. We have over 13 million people unemployed, and 45 million on food-stamps.
In other words, the "immigrants will save us" policy HAS ALREADY FAILED!
Rather spectacularly at that.