Below is a daily chart of the NDX showing a megaphone pattern (click to enlarge):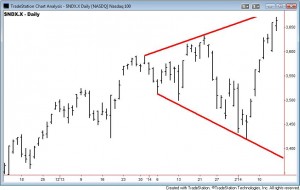 This pattern is sometimes called a "reverse symmetrical triangle" or a "broadening top" and is usually bearish. Here is a megaphone chart that I posted back in 2009: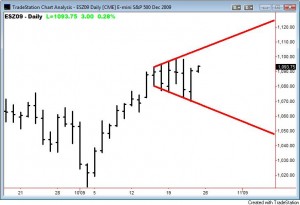 Two days later, the S&P 500 rolled over and dropped 63 points. But the correction only lasted six days, and the bull market resumed. So in that case, the megaphone was a signal to go to cash and get ready to buy the dip.
No pattern is perfectly reliable, and it's not impossible for the market to shake off a megaphone. Perhaps Janet Yellen's melodic voice has soothed the market beast. We will know very soon.