The IWM came within an eyelash of my downside target #1 from Tuesday's chart. Take a look at the green box (click chart to enlarge):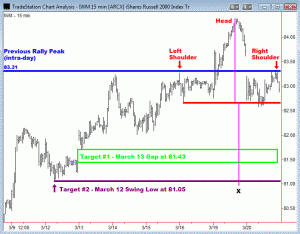 Here is what the chart looks like now. Notice how IWM dropped into my green box: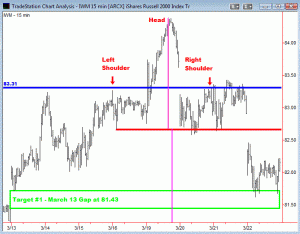 Not bad, huh?
The fact that IWM bounced without filling the gap completely is a sign of eager dip-buyers, so maybe you bulls will survive after all. However, the bears scored some points too. On Tuesday, I said that the bears "would want to see this pattern evolve into a downtrend channel." And that's exactly what has happened. Look at the red downtrend line that I drew on the chart on Wednesday: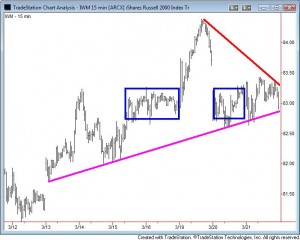 To see if we have a downtrend channel, we duplicate the red line to get a parallel, and drag it down to see if it connects the dots. And so it does: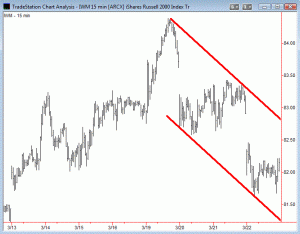 IWM made a nice double bottom around 81.65 Thursday afternoon, and rallied sharply into the bell. In order to stay alive, it must keep that momentum going long enough to at least run up and tag the upper line of the downtrend channel. If it falls short, the next swing down might pierce the lower trendline.
If you are bearish, your dream entry for a short trade is at the upper channel line. If you are looking to buy a dip, your dream entry is at the lower channel line – but only if prices can tag the upper line first.
If the market is weak on Friday, then I draw what I call a "turbo line". If the market drops at the open, it would look like this pink line: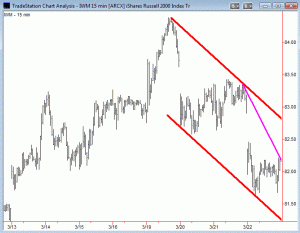 If IWM rallies up a bit, but fails to tag the upper channel line, then I draw the pink line through its high for the day. The turbo line is a signal that the slope of the downtrend may intensify. So, just like the head-and-shoulders pattern has morphed into a downtrend channel, the red downtrend channel may morph into a more intense pink downtrend channel.
Film at 4pm.