During the past few weeks, the Dow has been trading in a rectangular range about 300 points high. On the hourly chart below, I have outlined the range with red lines. (Click chart to enlarge):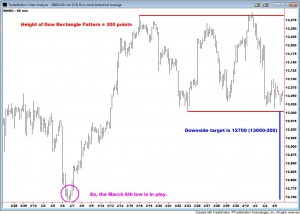 The futures have already broken out of that range, and stocks will certainly follow on Monday. To find the downside target, we subtract the height of the rectangle from the lower bound of the range. And that brings us to the March 6th low of 12735.
The last time that the market plunged after "not creating enough jobs" was on September 2, 2011. The next day, I criticized the panicky selling in "Companies Add Jobs for 18th Straight Month – Investors Jump Out Windows". And while I was right that the expansion/bull market wasn't over, the market did languish for a few weeks. On this chart, the red arrows point to that seemingly "bad" jobs report: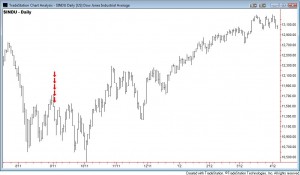 Of course, there's no guarantee that the bulls will get off easy again this time, with only one month of chastisement. However, another important event occurred last September: Mitt Romney said that, if elected, he would not re-appoint Ben Bernanke. And so, while Doug Kass says "the liquidity rally is over", a certain Mr. Bernanke may have other ideas on the subject.