When I drew the red line on the second chart in the previous post, I thought "too steep". I was also thinking that the right shoulder wasn't wide enough to balance the left shoulder. So, what the small caps did on Wednesday, moving sideways, made sense. On the chart below, I have re-drawn the red line, and it now has a more reasonable slope for a downtrend if the market drops. The blue boxes show how the shoulders looked after the close on Tuesday, and as you can see, the shoulders look more balanced now (click chart to enlarge):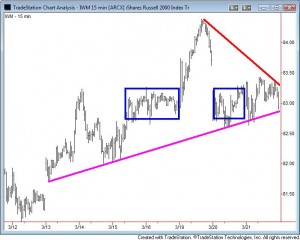 Bulls can be glad that the right shoulder is now wider than the left shoulder since that's a sign that the IWM may be able to shake off this bearish pattern. Bulls can also point to the pink line which has held an uptrend for over a week.
In addition to the head-and-shoulders pattern, bears can cite the fact that the IWM has closed below its breakout level for two days in a row now.
So, Thursday is an important day. A third close under the breakout level is one of the criteria of identifying a false breakout. So, its "swim or die" time for the small caps.
Why is the Russell 2000 struggling here? Suppose that a consumer has $2000 in spending money for the rest of the year. First, she buys yet another iPad for $600. Then she buys a share of AAPL for another $600. Then she has to set aside the remaining $800 for $4 per-gallon gasoline so that she can get to work.
Now she's tapped out and all the rest of the retailers will go bankrupt.
And the Zero Hedge Times will be upon us.
May god have mercy on your soul.