Exxon now has a bearish engulfing candle on its daily chart (click to enlarge):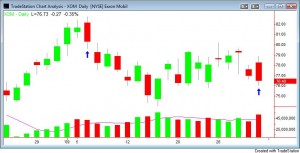 Notice what happened after the last bearish engulfing pattern that it had on January 6th (blue arrows). Also notice the big jump in volume on Friday. That makes it even more bearish.
Exxon announced earnings on Friday morning, and they were received as "good", yet we got this bearish result. I'm thinking that a large fund(s) was looking to exit Exxon and used the earnings report to engage in a bit of distribution. In fact, it looks like XOM has been under distribution for a while: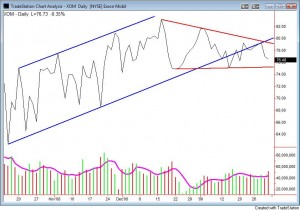 The stock was in an uptrend channel (blue lines), but the pattern has recently degraded into a descending triangle (red lines) after struggling to hold the lower blue line over the last two weeks.
The XLE also has a bearish engulfing candle on its daily chart.
Exxon is an important stock since it is so huge, and if it is beginning a sustained downtrend, that will not be good for the indicies.
Note: I don't have a position in XOM, XLE, or any other oil stocks. But if I did, I would be short.