I have added two new charts to my food-stamps page showing the breakdown by presidential administrations (click to enlarge):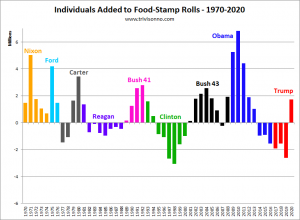 Sorry Democrats, but last night on MSNBC, Al Sharpton said that more people were added to the food-stamps program by Bush 41 than by Obama, so I felt compelled to reply to that blatant lie. Of course, Newt Gingrich acts like everybody on food stamps is black. But that is literally impossible. We have 46.2 million people on food stamps, but the African-American population of the USA is only 37.7 million! There's got to be some white people in there too, no?
This is all a moot point though. In the bad old days of "protectionism", the food-stamp rolls would expand during recessions, and recede during recoveries. But here in our fabulous, futuristic, free-trade utopia, poverty just grows and grows. Is it a coincidence that the food-stamp rocket blasted-off shortly after China was admitted to the World Trade Organization? I don't think so: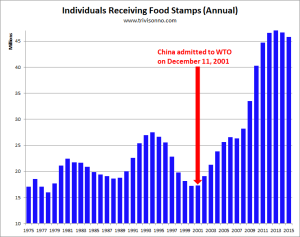 Not only was the launch of the food-stamp rocket a tri-partisan project, but so is the rocket's continued flight. Newt Gingrich was one of the chief rocket scientists, President Obama rubber-stamped more free-trade laws, and Ron Paul's libertarians provide the moronic ideology.