Apple?
On Wednesday night, I began my "XLF Goes Rogue" post by congratulating Steve Grasso, and then pointing out the XLF's breakdown. Then, Thursday's daytime episode of CNBC's "Fast Money", began by congratulating Grasso and went on to point out the problem with the XLF.
Do I hear an echo?
Grasso also said that his mutual-fund clients couldn't get enough Apple stock. But maybe they did get enough, because two hours later (at 2:38pm) AAPL stepped into the elevator and pressed the "Hell" button. AAPL, and the rest of the market made what might have been the sharpest plunge of the month – and with strong volume too.
Melissa Lee opened the 5pm episode of "Fast Money" raving about how Apple continues to "defy gravity." I reckon she didn't look at the intra-day chart. They then discussed Apple for seven straight minutes without ever mentioning the afternoon plunge. There were some bearish opinions presented, but overall it came across as an infomercial for AAPL.
This all stinks of distribution. I wouldn't buy Apple here with Larry Kudlow's money.
New Channel in Town?
The futures are up a couple of points as I write this Thursday night, but they will need to do better to break out of their new downtrend channel (click chart to enlarge):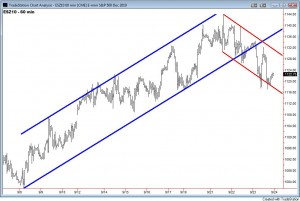 The blue lines on this 60-minute chart are drawn roughly around the September rally, which may be giving way to the new downtrend channel (red lines).
Block-Busted
I enjoyed seeing Blockbuster file for Chapter 11 bankruptcy. Before the internet, I dreaded going there. They had the worst customer service I have ever seen.
Volcker Goes Nuts
In what appears to be yet another sign of the wheels coming off of the Obama administration, Paul Volcker,
"…scrapped a prepared speech he had planned to deliver at the Federal Reserve Bank of Chicago on Thursday, and instead delivered a blistering, off-the-cuff critique leveled at nearly every corner of the financial system."
WSJ story here. Here is my favorite quote:
"I've heard so many stories about how important derivatives are but there doesn't seem to be much doubt that the creation of derivatives has far exceeded any pressing need for hedging."
I'm sure that he's talking about the banks' giant CDS casino there.