When George first spotted this triangle on Friday, it was a neutral symmetrical triangle. But by the end of the day, it degraded, and is now looking more like a bearish descending triangle (click chart to enlarge):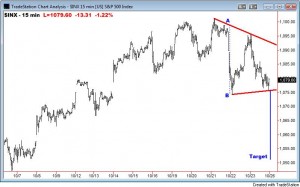 The height of the triangle, the dotted linen between "A" and "B", gives us the projection if the triangle breaks to the downside from this point. The blue line below the triangle is the same length as the dotted line, so "Target" is calculated as somewhere down in the 1050's.
Ironically, that level is where another triangle formed on October 6th-7th.
Another wave up to the top line of the triangle might be a dream scenario for bears.