As the Oligarchy campaigns for an even bigger tidal wave of legal immigration, their captive media is trumpeting the "we are a nation of immigrants" meme. While we are indeed a nation of immigrants, that is only half of the story. The other half is mass poverty, unemployment, and 48 million people on food stamps.
The blue line on the chart below shows the cumulative total of legal immigration since 1975. As of 2011, that total stands at 30.8 million. The red line shows the number of individuals who received food stamps each year (click chart to enlarge):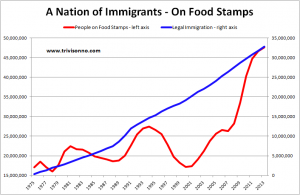 Perhaps you are shouting "correlation is not causality" at your screen. Fine. But if you believe that there is no relationship at all between these two trends, then I submit that you might be insane.
See more of my food-stamp charts here, and my immigration charts here. To learn more about how the Oligarchy is using mass immigration to crush wages, read my book: Dark Arts of the American Oligarchy.