The IWM has a bullish ascending triangle on its daily chart (click to enlarge):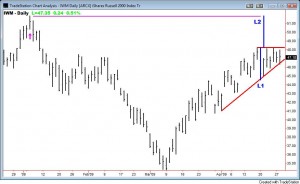 The red lines outline the triangle. The lower red line extends farther back, so it has a good deal of importance beyond the triangle. The blue line marked "L1" gives the height of the triangle, and a breakout would project the same length shown by line "L2".
From L2, follow the purple line to the left and you will see that a breakout would measure to the January peak marked by the purple arrow. So, if the IWM can break above the 48.25 area, it may have another 8%, or so, to run.
The IWM has outperformed SPY and QQQQ during this rally, and it represents 2,000 small-cap stocks, so it is important to watch. Also, even though many bears are calling this "The Crap Rally", the fact that small-caps are leading doesn't really tell us anything.
QQQQ has a similar pattern to the IWM, though it may be degrading. And since the XLF topped back on the 17th, and SPY is still conforming to its bearish rounding-top pattern, I wouldn't be surprised to see the IWM "round over" also. Nevertheless, if it breaks out, you definitely don't want to be in the way.