The IWM is now in a bearish downtrend channel which is marked with red lines on this 60-minute chart (click to enlarge):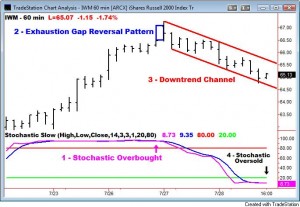 In the lower panel of the chart, I have added a slow-stochastic indicator. So, as you can see, IWM's stochastic had been in oversold territory for three days and was due to unwind. The beginning of that process was signaled by the exhaustion-gap reversal pattern (blue box) on Tuesday morning.
And now, IWM's stochastic is oversold. Will it be able to use that oversold condition to pop up and out of the channel? Or will it stay oversold for an extended period just like it stayed overbought on the way up?
A bearish attitude is appropriate until the gamblers come back to the small-cap casino, and the IWM busts out of this channel.