Larry Kudlow has been vociferously criticizing President Obama about jobs, but what about Kudlow's own jobs plan? The free-trade agreement with South Korea that Kudlow said was the magic elixir of job-creation has been in effect since March 15th. And we now have two full months of trade data (click chart to enlarge):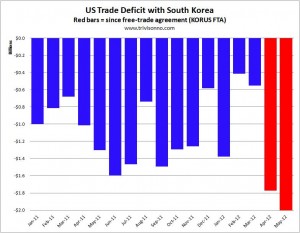 As you can see, our trade deficit with South Korea has worsened dramatically both month-to-month, and year-over-year. Imports are up and exports are down. Surely Kudlow's plan is destroying US jobs, no?
Kudlow campaigned for this agreement, but hasn't made a peep about it since it went into effect.
What about it Mr. Kudlow? Where are the jobs? Why aren't you popping the campaign cork on your CNBC TV show?
Further reading: