After the big plunge on Monday and Tuesday, a lot of buying power was required to drive stocks back up. That effort has left the market in a dangerous overbought state.
If you don't have time to study the chart below, make sure to bookmark this page and come back to it before Monday since it probably signals the end of this bear-market rally.
The chart shows the TRIN and SPY. I have put a simple 3-day moving average onto the TRIN. When the average falls to 0.80, you have a sell signal. On Friday, the 3-day moving average of the TRIN closed at 0.79, indicating a very overbought condition.
When was the last time that this indicator has hit this level? May 15th, June 25th, and July 8th. Those days are marked on the chart with blue vertical lines. After the latter two dates, the market flopped right over. On May 15th, the animal spirits of the bear-market rally kept stocks inching upward for two more days before the rally ended.
Top Section:
TRIN in light blue.
3-Day moving average of the TRIN in red.
The purple line is the 0.80 level of the moving average.
Lower Section:
SPY over the last three months.
Light blue dotted vertical lines are sell signals.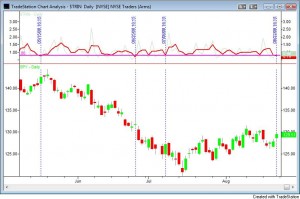 If the market is able to inch higher on Monday as it did at the end of the March-May rally, I will go all-in and leveraged-short with all of my remaining capital. Coming into the week, I was 98% in cash. On Thursday and Friday, I loaded up on SDS, SKF, and SPY puts. Those positions are all underwater now, but I don't think I will be taking pain for much longer.
Yes, it is psychologically almost impossible to short in the face of a strong market. But I did it at the end of the March-May rally, and I am doing it again right now.
Note: It is pretty easy to make a chart like the one above. I doubt that there are any charting programs that don't have the TRIN. So, all that you need to do is slap a moving average onto a TRIN chart and check it daily. I used a 3-day period for my moving average because SPY has been wobbling in short spurts lately, but you can adjust the period.