Way, way back on March 5, 2012 I posted: "Microsoft Poised to Commit Suicide" in which I concluded:
"I wouldn't hold MSFT if you put a gun to my head."
On that day, MSFT closed at $31.80. On Friday, it closed at $26.55 – down 16.5% since my call. See the red arrows on the chart (click to enlarge):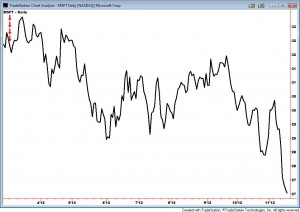 Not only that, but Steven Sinofsky, president of the Windows Division has been booted out of Microsoft.
Did I totally nail that, or what?