Here is some solace for the bears:
The NASDAQ-100 and Dow Jones Transportation Average failed to take out their rally highs. To follow the drama overnight, draw this line on a 60-minute chart of the NQ, the NASDAQ-100 futures (click to enlarge):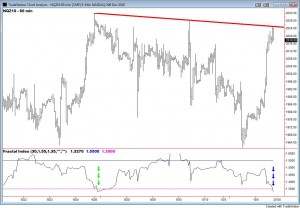 As you can see, the red line connects the last three peaks, and the NQ closed below the line at 4:15pm. So, the resistance in the 2025 area is something the bears can pin their hopes upon.
Also, look at the Fractal Dimension Index down at the bottom. The blue arrows are pointing to an end-of-trend signal. Now look at the green arrows; they are pointing to a similar signal that occurred at the peak on September 28th. So, maybe this surge is done. Of course, the Bank of Japan is flooding the world with yen and inflating everything in sight, so who knows?
A big part of the reason why the NDX couldn't take out its rally peak of 2029.65, was, believe it or not, Apple. Here is a 15-minute chart of AAPL: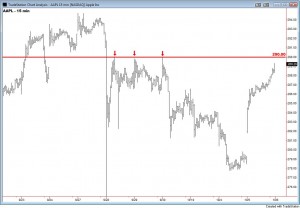 Apple came up short of its 290.00 resistance level, which as the red arrows show, has been a serious problem for AAPL since its mini flash-crash on September 28th.
So, there you have it: NQ drama overnight, and AAPL drama for tomorrow.
Stocks certainly celebrated the Bank of Japan's move last night, but you have to admit, it's a bit unnerving when the world's central banks start acting all crazy, is it not? After all, it was Jean Claude Trichet's "let it burn" attitude toward Greece that caused the Flash Crash on May 6th. And that was just words. Now, central banks are doing crazy things.
Of course, the CB's are doing the opposite now – competing with each other to flood the world with money, rather than being miserly like Trichet back in May. Nevertheless, when the world's most powerful economic institutions start punching each other in the face, I'm guessing that the odds for something to go very horribly wrong are elevated.
On May 6th, we had hysteria amongst investors. Today, we have hysteria amongst central bankers. And that just can't be a good thing.