The USDA reported today that the number of people on food stamps in September surged to a record 47,710,324 – a jump of 607,559 from the previous month. The USDA reports data with a two-month lag, so this total does not include the effects of Hurricane Sandy. Click chart to enlarge: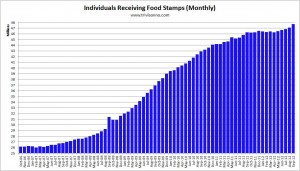 The economy is creating jobs, but obviously not enough to keep up with "population growth" (a.k.a. "mass immigration").
Data source: USDA.
See more charts here.