You OBJ cultists are cringing right about now because you know what's coming: yet another statistical beat-down of Your Majesty, Odell Beckham, Jr.
Today, we are looking at the touchdowns-per-target metric. Racking up yardage is nice, but scoring touchdowns is what actually counts. Rashard Higgins and Baker Mayfield are legendary for their aerial prowess, so let's quantify exactly how fabulous they are. Take a look at this spreadsheet: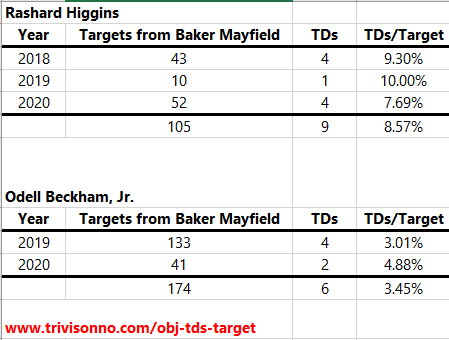 So, when Baker throws the ball to Hig, it results in a TD 8.57% of the time. But when Baker throws the ball to OBJ, it only results in a TD 3.45% of the time. OBJ only had two passing TDs from Baker in 2020 (see below).
How do Baker/Hig's numbers compare to the rest of the league? If you look at this page, you will see that Hig finished 2020 just an eyelash behind DK Metcalf, so he is in pretty good company. Adam Thielen led the league with 13% – almost quadruple OBJ's performance.
Since we are examining Baker/Higgins as a duo, versus the Baker/Beckham duo, we can't just use the standard targeting numbers. Not all targets are created equal; most come from Baker, but some targets in the Baker Era came from Tyrod Taylor, Case Keenum, Garret Gilbert, Jarvis Landry, and Odell himself. So, here are the adjustments that were made:
Item: Higgins had 53 targets in 2018, but 10 were from Tyrod Taylor, so his targets with Baker in 2018 are 43. Taylor did not throw any TDs to Hig.
Item: Higgins had 11 targets in 2019, but one was from Garret Gilbert, so Hig's total for the year has been reduced to 10.
Item: Jarvis Landry has not thrown any passes to Hig, but he threw 1 TD to OBJ during the Dallas game in 2020. So, OBJ's 2020 TD total, and target total, were decremented for that play.
Item: One of OBJ's TDs during the Dallas game was an end-around where Baker handed him the ball. So, that was not a pass, and OBJ's TD total was decremented again.
Item: Case Keenum thew one pass to OBJ in 2020, so OBJ's targets were decremented for that play.
Note: the full name for this metric is "Career Touchdowns-per-Target for QB/Receiver Duo."
Note: See also my post: "12 Stats Where Rashard Higgins Beats Odell Beckham, Jr."
If OBJ's 174 targets were given to Hig, and his conversion rate of 8.57% held up, a total of 24 TDs would have been scored instead of the actual total of 15 for both receivers combined. Why don't the Browns bench OBJ, start Hig, and just pick up the low-hanging fruit of 9 free TDs? I don't know, but I suspect that HC Stefanski has marching orders from the Haslams to play OBJ no matter how dysfunctional he is with Baker. Either that, or the orders come from Paul DePodesta, the analytics nerd.
The season hasn't started yet, so there is still time for the team to come to its senses, but don't hold your breath. Higgins, who is like a 50-caliber machine-gun with only a couple of rounds in its ammo belt, will likely ride the bench again this year, just like he did at the beginning of the 2020 season. It's mind-boggling to have a weapon like this and not use it, but that's what happens when your franchise is not a football team, but rather a cult of personality dedicated to keeping the ego of Odell Beckham, Jr. puffed-up.