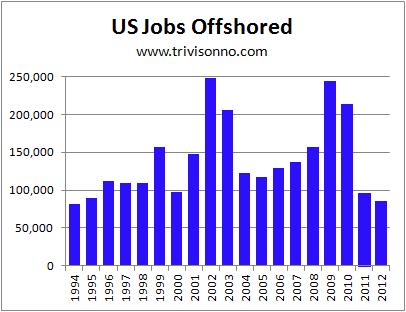 The chart above shows an official count of jobs that have been offshored since the North American Free Trade Agreement (NAFTA) went into effect in January 1994.
In November 1999, U.S. Trade Representative Charlene Barshefsky and Chinese Premier Zhu Rongji made a trade deal that led to China's admission into the World Trade Organization (WTO) on November 10, 2001. And offshoring intensified.
The grand total of jobs offshored to date since 1994 is 2.61 million. However, the USA has likely lost many more jobs to offshoring and outsourcing. These statistics are only the jobs actually counted by bureaucrats after a petition was filed by fired workers. The NAFTA bill included support for displaced workers, and the Employment and Training Administration of the US Department of Labor compiles these statistics.
The decline in 2011 was due to Congress reducing funding for the program, and is not necessarily reflective of a reduction in offshoring. These statistics are ultimately determined by politics. If your job is sent to China, Mexico, or India, it may or may not be counted. And you may or may not be eligible for a re-training program. It is just a matter of what Congress decides.
Note to bloggers: You may use this offshoring chart on your blog as long as you include a link to this page. No hot-linking please.