A bear-flag pattern may be forming on the SPX. Here is a 60-minute (click to enlarge):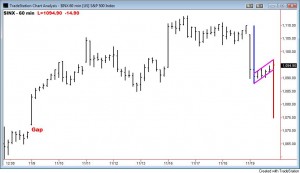 The blue line was a high-volume plunge. The purple lines outline a sharp retracement on lighter volume. The red line is the same height as the blue line and is placed at the top of the flag to get a pattern projection. If the pattern plays out, the bottom of the red line is the target. Notice that it's close to the level of the still-unfilled gap left from the open on November 9th.
On the 15-minute chart below, we see that the retracement, if it is indeed complete, was weak; only being able to muster a bounce to the 38.2% Fibonacci retracement level (Point B). Another bearish indicator is that the opening gap was not filled (Point A):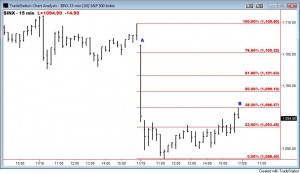 The next chart shows Fibonacci extensions, and uses the same three points as were used in the flag on the first chart: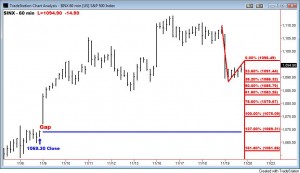 What I find interesting is that the 127% extension matches exactly with the close on November 6th, which is where the gap discussed above opened. (The blue horizontal line highlights the connection between the gap and the 127% extension).
That's the market's way of telling you: "I'm thinking about filling that gap." Gaps are targets to which the market gravitates. A 127% extension is feasible because, as we saw on the second chart, the retracement was weak, and the market left behind a gap overhead. Also, all the major ETF's left gaps behind, so it was a rather emphatic, bearish statement.
Gaps above are resistance, and gaps below are support. So, if you are bullish, you want to go long as prices approach the downside gap.
Of course, there is no guarantee that the market will drop that far, or at all. An alternative scenario would be a 61.8% extension which holds the November 12th low at 1085. Or the market could retrace upward some more on Friday, which would cause all the downside targets to be raised.
One thing to watch for on Friday is for the market to fall in a wedge pattern. That often gives a clue as to how far the extension will go, and is a typical way for a correction to complete.
And since this is a bull market, prices can simply keep going up from today's close. If this were a bear market, that would be very unlikely, but in a bull market, such "pattern failure" happens all the time.