SPY's plunge in the last half-hour of trading on Thursday makes me think that we might be looking at a bear-flag pattern. So, if the market doesn't like Friday's economic reports and continues downward, then this 15-minute SPY chart of the past week shows some likely targets (click to enlarge):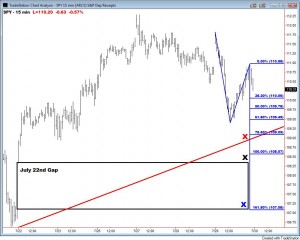 A 78.6% Fibonacci extension (red "X") would have SPY testing its July rally line (red). You can't see the whole line on this chart, but it is the same one as the lower line on the QQQQ chart below.
A 100% extension (black "X") gets SPY into the vicinity of its July 22nd gap (black box), the top of which is 108.33.
And a 161.8% extension (blue "X") would see SPY filling the gap at 107.10, which was SPY's close on July 21st.
And now for a bullish scenario: At the black arrow on this 60-minute QQQQ chart, you can see that the Q's successfully tested their July rally line Thursday afternoon: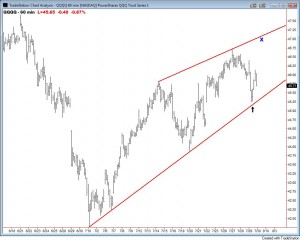 Is that enough to satisfy Ms. Market? If so, and the market rallies, then the Q's might head for the top of their rising-wedge pattern at the blue "X" up around 47.00.