Yesterday, I said to be ready for a pullback when SPY approaches the lower boundary of its TARP Gap. And that's exactly what happened. Tuesday afternoon's sell-off began (blue arrow on chart) when SPY came within nine cents of the lower boundary, which I have at 119.34 (click chart to enlarge):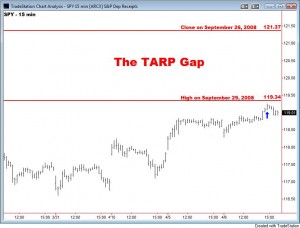 There wasn't much in the way of bearish catalysts at that time. CNBC was talking about the Citigroup FINRA fine, but I doubt that would have put a dent in this monster bull market on its own.
While the gap appears as vacant space on the chart, in actual reality, it is comprised of bulls who have been trapped up there with horrific losses for 19 months. When they sell in relief to finally get out even, which is a very popular way to "invest", they create the resistance. How many are there? How much buying power will it take to clear them out? I don't know, but I would make two predictions: the gap will be filled at some point during this bull market, and it will require a struggle lasting from several days to several weeks.