Seems like an easy question, right? Well, let's take a look at a test case. In March 2012, Josh Brown of The Reformed Broker had his book "Backstage Wall Street" published, and it generated a lot of buzz in the financial media.
Suddenly, everywhere you looked, there was Josh on financial TV and radio, including CNBC's "Fast Money" show. I imagine that Josh was promoting his book more than his website during these appearances, however I was surprised to see that his Alexa rank did not improve. Here is the chart from my Rank-O-Matic app: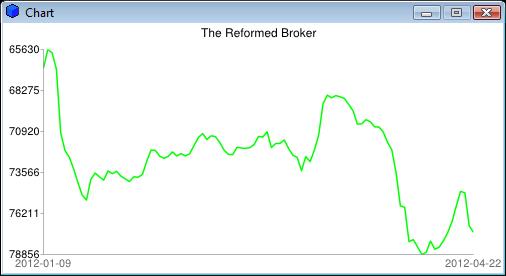 This reminds me of Steve Martin's comments about how TV appearances did nothing for him during his early career. Viewers just didn't jump up and race to the record store to buy his comedy CD's.
This is good news for anonymous bloggers who might be feeling like they are missing out on TV-generated web traffic.
What could one do to drive more traffic from a TV appearance? I don't know, but maybe saying something wild like this would work: "I have a picture of a caged extraterrestrial on my website right now. Go look at it."