On Thursday, September 23rd, I wrote:
This all stinks of distribution. I wouldn't buy Apple here with Larry Kudlow's money.
What happened next? KABOOM! That's what.
Apple had one more up-day, rolled over, and it's been all downhill ever since, complete with a mini "flash crash". I made my comments at the blue arrow on this chart (click to enlarge):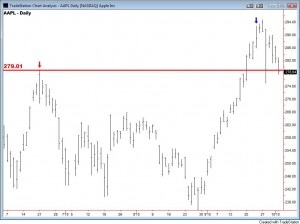 Notice how AAPL was rocketing straight up in an unbelievable parabolic rally, until I jumped onto the tracks and stopped that speeding locomotive Superman style. And I didn't use technical analysis to do so. Or fundamental analysis. I just sniffed out the BS on CNBC.
How about that?
Now, look at the red line and red arrow on the chart. $279.01 was the top tick of the June rally, and Apple closed below that level on Monday. In chart-land, that is considered improper etiquette.
I suspect $279.01 will be an important level for Apple, and the rest of the market this week. Is Apple only fooling us with a false breakdown, or does it intend to correct further?
I don't know. I'm back in Clark Kent mode now.
Note: A few hours after I published this, the Bank of Japan went berserk and flooded the world with gazillions of yen. That inflated our stock market, and Apple rallied over $10 the next day, though it did fail to make a new rally high along with the rest of the market.