The XLF has been declining for three weeks, and its hourly chart now has a bearish descending triangle pattern (click to enlarge):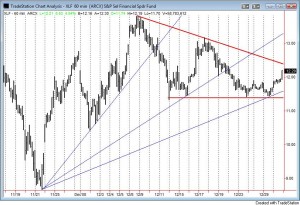 The red lines outline the triangle.
The light blue lines show the "Three Fan Line Rule" and indicate that the XLF is probably rolling over – a typical way for a bear-market rally to end. Today's rally served to put a third fan line on many charts, and you will also see many descending triangles too.