When delivering his Litany of Horrors to terrorize his marks (i.e. listeners) Alex Jones always mentions the U.S. Dollar. For example, during the September 17, 2014 edition of his podcast (at 37:46) Jones brayed:
"…that's all going on with the backdrop of war with Russia, war in the Middle East, dollar devaluation, Ebola spreading, China threatening to invade the Philippines again – the whole world is blowing up!"
But if we look at a chart of the dollar index for this year, we see that the dollar has been doing quite well recently: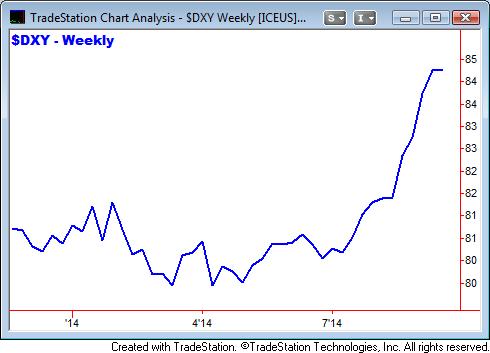 Does Jones ever look at a dollar chart to see what is actually happening? Maybe, maybe not; reality is just not material to his purpose as a human Stuka dive bomber. The more he can frighten his listeners, the more gold they will buy from his sponsors.
Jones also likes to criticize the globalists, but a strong dollar is a holy sacrament to them. The stronger the dollar, the more cheaply they can buy the products of Asian sweatshops. In fact, the overvalued dollar, compared to Asian currencies, is the single-most important factor that has caused the export of so many American jobs to Asia.
If Jones actually wanted to hurt the globalists, he would campaign against the overvalued dollar, and specifically, against the dollar/yuan currency peg imposed on the USA by Beijing. That peg keeps the yuan artificially weak against the dollar, and the playing field slanted in their favor as our factories and jobs just slide out of the country and down into China.
That would be the patriotic, honorable thing to do.
But don't hold your breadth. There will be no script changes made to the Alex Jones infomercial formula. I predict that he will continue to say whatever is necessary to terrorize his audience and move product.