Well, it's that time of year again when Old Man Rockefeller gets a chuckle out of duping Christians into making a pilgrimage to his Luciferian art work. How does he do that? Easy, he installs a giant Christmas tree right above his statue of Prometheus in Rockefeller Center. Thousands of people come to gawk at the tree, not realizing that Prometheus is the Greek counterpart of Lucifer.
While Prometheus was a multifaceted Greek Titan, Rockefeller's statue depicts Prometheus explicitly in his light-bringing role, and "light bringing" is the Latin translation of "Lucifer." (click image to enlarge):
Right behind the tree is the Great Architect, the god of the Luciferian, Masonic religion of the elite. This photo shows the Great Architect as the platform for the tree is being built. (See more photos at HuffPo.)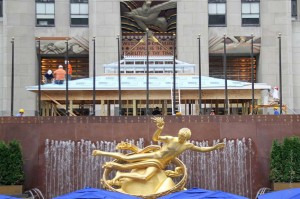 David Rockefeller is the Great Architect of the global economy. His "Great Work" was to convert American wealth into trillions of dollars of corporate profits stashed away in the Cayman Islands. Read more in my book.
Support for globalization has never been strong in the USA, and it can be easily reversed. All that is required is that the American people demand that the Rockefeller system of NAFTA, GATT, WTO, etc. be dismantled. And a symbolic gesture could be sent by boycotting Rockefeller's Tree From Hell.
Boycott the Tree!
Also, look at this image I found on the NBC website. The Rockettes are giving the Heil-Hitler sign to Prometheus! Heil Satan!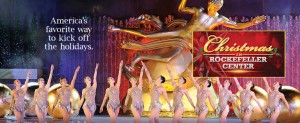 Note: This is not a joke. Having 47 million people on food stamps is not a joke; it is the premeditated work of evil people who deliberately sent millions of jobs out of the country.
Note: You don't have to take my word for Prometheus being a Luciferian character. The idea is widely discussed, and is the subject of a classic work of literary criticism titled "Lucifer and Prometheus" by R.J. Zwi Werblowsky.