Odell Beckham, Jr. fans must be disappointed to learn that their favorite player doesn't play any better with Case Keenum than he does with Baker Mayfield. During the Browns' victory over Denver on Thursday night, Keenum targeted OBJ six times, and OBJ was only able to reel in two balls for a terrible 33.3% catch rate.
Overall, Keenum completed 21 of 33 throws for a 63.6% completion rate, which isn't great, but is decent considering how breezy it was in the wind-tunnel where the Browns insist on playing their games.
Odell was also playing injured, so conditions were not ideal, but OBJ came across as lackluster once again, dropping balls, falling down, drawing an illegal-formation penalty, and racking up a grand total of zero yards-after-catch (YAC) on his two catches. This is the second week in a row where the network announcers called him a "non factor."
Prior to Thursday night, Baker had not missed a game. And OBJ's previous QB, Eli Manning was equally as tough. So, we only had data for OBJ playing with two QBs in the NFL. But now, we have a full game of OBJ playing with a third QB, and the results swing the spotlight of blame back over to OBJ as to who is the culprit in the incredibly poor play of the Baker-Beckham duo.
If your receiving corps consisted of OBJ and five of his clones, and the Bengals called and said: we will trade you Ja'Marr Chase, but we want all six of your OBJ's, how fast would you scream DEAL! into the phone?
People often debate who has the best QB in the division. Right now, if you went by QB rating it would be:
1) Joe Burrow
2) Baker Mayfield
3) Lamar Jackson
4) Ben Roethlisberger
But who has the best WR1 in the division? With OBJ averaging 14.1 yards-per-catch, our WR1 ranks at #37 in the 32-team league. Clearly, WR1 is a position of concern.
OBJ fanbois claim that we need to keep OBJ in there because he just might break one off at any moment. But, as I wrote a year ago, OBJ is simply not a big YAC guy. As I reported, Kareem Hunt was the Browns top YAC threat with an average of 5.94 YAC. Well, here is an update on that:
Browns' Players YAC through Week 7 of the 2021 season: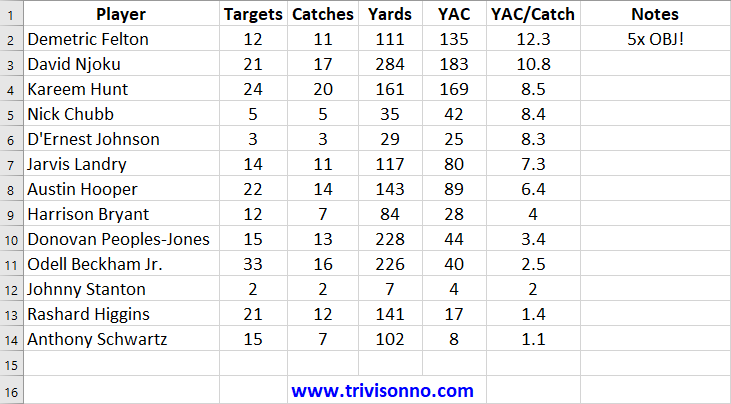 As you can see in this spreadsheet, OBJ is not the go-to guy for YAC. In fact, Demetric Felton will give you 5x the yardage that OBJ would. Also, notice that the running-backs are all extremely good with YAC, and David Njoku is a menace with the ball in his hands. Do keep in mind that there is no YAC for your wide-outs when they make a toe-tapper on the sideline, or catch a ball in the end-zone. And Baker likes to make a lot of tight-window throws where the receiver is already in the process of being tackled! And finally, Anthony Schwartz can be knocked over with a feather.
Go to the 5:58 mark of this video to see why Demetric Felton's YAC number is so high.