Over the past few blogs, I have been urging the Browns to adopt a nuclear-grade, smash-mouth offense for the simple reason that they are built for it, and their passing game is in shambles. But HC Kevin Stefanski did not take my advice. In fact, he did just the opposite. During his Week 12 loss to the Ravens, he only gave Nick Chubb 8 rushing attempts!
So, Stefanski didn't listen. But Patriots HC Bill Belichick did. During his MNF victory over the Bills, Belichick caused a sensation by running the ball 46 times, and passing on only 3 downs. Something that hadn't been seen for decades. According to The New York Times:
"An NFL team attempted three or fewer passes in a game only seven times in the 1940s, and just once each in the '50s, '60s and '70s. But no team had done it since then."
That glory could have been Stefanski's – if only he had listened to me. But he did not. However, now that Belichick has blazed the trail, the conservative, and conformist, Stefanski can follow in the master's footsteps without fear of criticism during Sunday's rematch with the Ravens.
Here's one of the things about smash-mouth football that I wrote a couple of blogs ago:
"Here's the thing about crowding the line-of-scrimmage: if the offense is able to open just one little hole, the running back can burst through and run for a touchdown."
And that is exactly what happened to the Bills. Here they are stacking the box with no less than 10 players (click image to enlarge):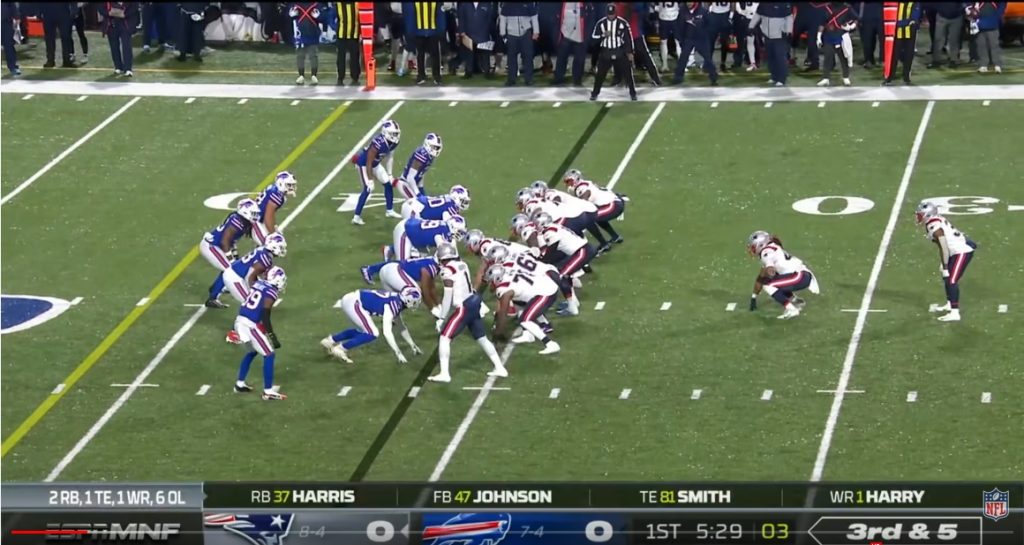 What happened next? Damien Harris ran over left tackle for 64 yards and a touchdown. So, the Patriots ran for 2,4,2,4,-1,-1,6,64. And that is a normal sequence in smash-mouth football. In other words, it looks like you are losing until you blast through.
Furthermore, Damein Harris is averaging 4.6 yards-per-carry this year, and the Browns have *three* running backs averaging way more than that: Nick Chubb (5.8), Kareem Hunt (5.0), and D'Ernest Johnson (5.2). Can the Browns play smash-mouth football? Hell yeah. We should also note that while Blake Hance struggles in pass-pro, he does okay with run-blocking, so the ground game plays to the Browns' strengths, such as they are.
So, if the Browns run the ball 46 times like Belichick did, will they beat the Ravens? Maybe, maybe not. But you don't know unless you try. And there's the problem. The Browns probably won't even try. Unfortunately, a "we can't run the ball" mentality has taken over the Browns recently. For an example, listen to Nicole Chatham's comments at the 41:42 mark of this podcast where she says:
"I saw one comment consistently all game. [Dumb-guy imitation] This is what you get when you abandon the run. This is what you get when you abandon the run. Run the ball, run the ball, run the damn ball. [/Dumb-guy imitation] They tried; it didn't work. And it didn't work because the Ravens had eight in the box the whole game."
Eighth in the box? Oh, my! How terrifying!
Last year, Nick Chubb was asked by a reporter about how he felt about stacked boxes. I forget his exact reply, but he was simply indifferent. Speaking of Chubb, he faced stacked boxes during the Browns playoff game with the Chiefs last season. Here's how he & Kareem did in the 3rd quarter of that game where the Browns did the bulk of their rushing: 23,18,2,9,7,3,6,1. That's 8.6 yards per carry. Not too shabby. That's just a snapshot, but the point is that a stacked box is far from a death knell for your running game – especially one as potent as that of the Browns.
Until somebody matches him, Bill Belichick is the King of Smash-Mouth. To top him, you would have to do something even more extreme. How about my idea of dispensing with the QB in favor of another fullback, who would then block for the running back after he takes a direct snap? On Monday night, all Mac Jones did was hand off the ball. Why not get some more oomph out of that player?
David Njoku went on the COVID list today, so if the Browns don't have their #1 receiver available on Sunday, that's all the more reason for an extreme smash-mouth effort. The passing game failed last week in Baltimore, and may be even weaker on Sunday. Now it's time to unleash the Three-Headed Monster.
The winning formula: elite defense + persistent smash-mouth ground game = victory over Ravens.
Note: Damien Harris' 64-yard TD run was the longest by a Patriots back in 24 years. And it would have never happened without a hyper-stacked box. While a stacked box looks fearsome, it is in reality a risky defensive play.