For some reason, many Browns commentators like to piss on D'Ernest Johnson. They will spout bullshit like: "he's no Nick Chubb." Really? DJ is not Nick Chubb? No shit Sherlock. Guess what? Nobody is Nick Chubb, aside from Chubb himself, of course. But make no mistake, DJ is elite. Take a look at this yards-per-carry chart: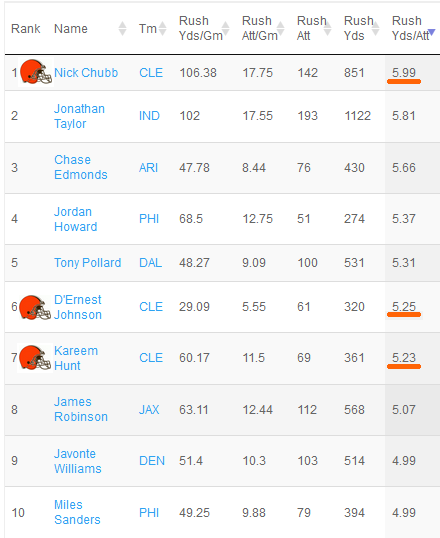 That's right, the Two-Headed Monster has sprouted another head. D'Ernest Johnson is no joke, and the Browns need to extend him.
This data is through Week 11, and includes running backs with 50 or more carries. It does not include other positions such as quarterback. So, you won't see Lamar Jackson listed here though he would have been slightly ahead of Chubb at 6.03.
D'Ernest doesn't show up in most rankings. I think that the apostrophe in his name might be confusing some stats systems out there. This data came from FantasyFootballers.org, however since they don't let you set the date-range, you won't be able to reproduce this exact chart.
I needed to post this now because not only is DJ's contract coming to an end, but the Browns have all but given up on their ground game, and DJ might not have enough carries at the end of the year to rank. Hell, at the rate the Browns are going, Kareem Hunt might not get enough carries. During their Week 12 loss to the Ravens, Chubb only had 8 carries! Kareem had 7, and DJ got 0.
With Derrick Henry injured, I was thinking that Nick Chubb could win the rushing crown this year. But not only is he still behind Henry, he is also behind Joe Mixon, and way behind Jonathan Taylor.
This reminds me of 2019 when Freddie Kitchens didn't give Chubb enough carries to win the rushing crown. Derrick Henry stole it from Chubb during the last game of the season when his coach gave him 32 attempts while Chubb only got 13. With the Browns playoff hopes pretty much gone, getting Chubb the rushing crown, and keeping Kareem & DJ in the top ten, is a worthy goal that fans would take satisfaction in.