After the Chargers game, Baker Mayfield and Myles Garrett were critical of the officiating, and justifiably so. However, it's not like the refs are going to look in the mirror and say: "Golly, gee whiz, I really have to try harder because the players are complaining." No. They are more likely to say: "Just wait until I get my hands on those fucking Browns again! I will officiate those assholes right into the ground! I don't care how big and powerful Myles Garrett is! I will crush him like a bug! No sacks for you!"
Right? Nothing good can come from butting heads with the officials. Remember when Odell Beckham, Jr. clashed with the NFL over uniform issues? What happened next? It seemed like Ravens CB Marlon Humphrey was given carte blanche to interfere with OBJ. And it wasn't just Humphrey. Remember when Bengals CB William Jackson blatantly held OBJ's jersey; right in front of an official; who didn't throw a flag? Watch:
Odell Beckham a jersey-grab away from beating William Jackson for a second time down the left sideline. pic.twitter.com/Jt5clAYFeq

— Ben Baby (@Ben_Baby) September 18, 2020
Did you see the ref at the end of the video looking right at OBJ?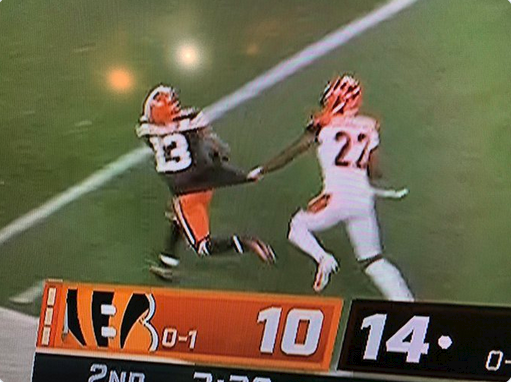 Truth be told, OBJ's battle with the league resulted in a substantial hit to his stats, and to Baker's stats also. But after I excoriated OBJ back here, he stopped tangling with the league, and was eventually treated more fairly by the refs.
But last week, while playing the Cardinals, the refs unveiled a brand-new penalty just for the Browns: touching the passer:
— sports (@ilikesportsvids) October 17, 2021
Yes, the officiating is atrocious and needs to be fixed. But bringing the wrath of incompetent refs down on your head is not the way to do it. Players should think of bad officiating as akin to bad weather. It's just something you have to endure because there is nothing you can do about it.
Stefanski Surrenders to Cardinals
I was expecting D'Ernest Johnson to get more action on Sunday, what with Nick Chubb out and Kareem Hunt banged up, but Johnson only got two touches. The league's #1 rushing team inexplicably decided to abandon the running game. On average, the Browns had been running the ball 32 times per game. But against the Cardinals, they only ran 16 times.
Okay, you would expect the running game to be diminished with Chubb out and both tackle positions compromised. But couldn't Hunt & Johnson run behind Bitonio, Tretter, and Teller? I hear those guys are pretty good at run-blocking. Who was it that said that the best play you can call is running it straight up the middle?
After the game, Baker said that the Cardinals were putting a lot of big bodies up front, and the Browns tried to shake them out of that by going with an empty backfield and more receivers. But is that all it takes for the Browns to abandon their scheme? The Cardinals rushing defense was ranked at #29 in the league coming into the game, and somehow they were able to easily shut down the Browns? How does that happen? In any case, believe it or not, the Browns are still the #1 rushing team averaging 168.5 yards per game.
Now that the two-headed monster has been beheaded, the Browns have no choice but to let Johnson take a few hand offs. Like Rashard Higgins and David Njoku, I think that Johnson has been unfairly persecuted, probably because analytics. I imagine Browns Chief of Slide Rules, Paul DePodesta including Johnson in the "don't play" memo because he is "too slow."
Johnson doesn't have a combine time, but he ran a 4.81s forty at his pro day. That makes him tied for last place (among non-linemen) with Andy Janovich and Baker Mayfield. See my speed page. And yet, somehow, Johnson is pretty good at running the ball. For example, returning kick-offs for the Browns last year, he ranked at #8 in the league with 24.8 yards per return. And that is substantially better than what speedsters Anthony Schwartz (23.6) and Donovan Peoples-Jones (21.1) have done.
Could it be that straight-ahead speed is only a minor factor when it comes to running the ball?
And Johnson is a smart player. In fact, Baker's famous Hail-Mary pass against the Cardinals wouldn't have happened without him. Keep reading:
Baker's Hail Mary
Normally, we see the Hail Mary pass at the end of the game during "garbage time" where it is just a matter of luck. But Baker Mayfield's Hail Mary versus the Cardinals was executed with quite a lot of skill.
First, Baker was aware of how far he could throw the ball, and like getting into field-goal range, he knew how close he needed to get. So, after the Cardinals kicked-off, Baker threw a series of short passes to get to the 43-yard line. Johnson caught one of those passes.
Second, when Baker dropped back to throw the bomb, Johnson stayed in to provide pass-pro, and prevented Baker from being sacked.
Third, Baker threw a perfectly accurate pass.
Fourth, Donovan Peoples-Jones made a superb catch. DPJ seemed to be the target with Higgins and Njoku positioned behind him to snag a potentially tipped ball.
So, well done all around, and Baker's stats for the day don't need an asterisk. Which is important because…
Baker Did Better than it Feels
Pop quiz! Who threw for the most yards, and highest completion-rate? Baker or Kyler? It sure feels like Kyler, right? But Baker won on both counts. He threw for 234 yards to Kyler's 229, and completed 67.9% to Kyler's 66.6%.
Last week, I predicted that Baker would play better going forward because he had been cured of his OBJ-itis. And despite trying to pilot a smashed-up offense without Nick Chubb, Jedrick Wills, Jack Conklin, Jarvis Landry, and his own shoulder injury, Baker did pretty well. He also seems to have worked a bit more smoothly with OBJ. The fourth-down pass in the fourth quarter that OBJ couldn't grab could be classified as a case of Baker forcing the ball to OBJ because the DB was close enough to get a hand in. But overall, and with all the injury adversity, and facing an undefeated foe, I think Baker did pretty well. So, I'm still liking my prediction.
Baker did blow the game with three turnovers and five self-inflicted, hero-ball sacks, but his throwing was pretty good.
Notes
Note: According to Next Gen Stats, Baker's Hail Mary traveled 66.4 yards in the air, which is the longest since Next Gen started counting in 2016. It beat the old record by 2 yards.
Note to Stefanski: that 4th down play where Baker runs backwards and gets sacked? Yeah, stop calling that. It's a bad play.
Note: The defense improved from two blown-coverage TDs last week to one this week. Progress.
Note to Joe Woods: you have seven new starters in your defense this year. Could your scheme be too complicated for so many new players? Maybe simplify things a bit until they have time to gel?
Note: according to PFF: "Mayfield took five sacks in the game, but none were credited against the offensive line." Classic hero-ball. This is a big area where Baker can make advances: not losing your mind when you fall behind.