I am reporting this one day early because this year is a leap year. So, it is fair to make a quarter-over-quarter calendar-based comparison using one less day in March.
Note on the chart how growth in the Treasury's withholding of taxes from paychecks dropped to nothing in the first quarter of 2008: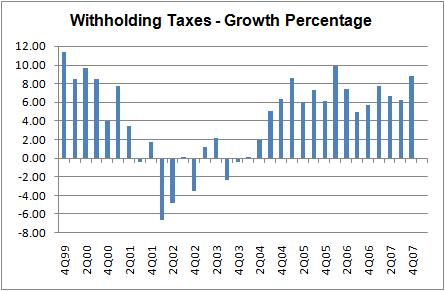 The exact number is -0.09%.
1Q07 withholdings were $473,719,000.
1Q08 withholdings were $473,275,000.
This is the first quarterly drop since 4Q03. Any jobs that were added over the past year are gone – and then some when you account for wage inflation.
Not good.
I will add this chart to my main Withholding page tomorrow, along with an "official" one that includes the leap day.