In the first season of CBS's "Under the Dome" there was just a mysterious dome imprisoning the town of Chester's Mill.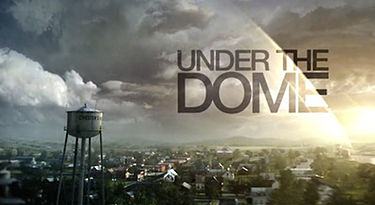 Now, in the middle of season two, the space-egg informs us that there is also a mysterious obelisk in the nearby town of Zenith:
And we learn that there is a mysterious connection between the Dome and the Obelisk. Dome's are considered symbolic of the womb, and obelisks are phallic symbols. In the frame above, notice that the directer prominently displayed the thigh-gaps of the female characters, making sure that we get the sexual connotation of the obelisk (click image to enlarge).
This womb/obelisk arrangement is very similar to the architecture of Washington, D.C. In this photo, notice the phallic symbol (the Washington Monument) is connected to the womb symbol (the Capitol Dome) by the National Mall: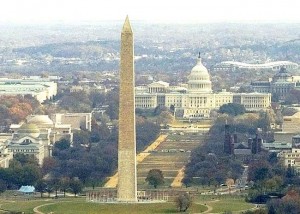 So, what were the Illuminized Freemasons (the Founding Fathers) thinking when they constructed the world's largest obelisk, and a gigantic dome? I don't know, but perhaps they wanted to summon dark forces and have the symbolic sexual organs create a giant baby who would grow up to be a world-dominating colossus. If so, their black magic worked.
What does this imply for Under the Dome? I haven't read the Stephen King novel which the show is based on, but people say the show has diverted from the novel anyway. Perhaps the Dome and the Zenith Obelisk will confer super powers on one of the characters who will then invade Iraq, bomb Syria, and start a "color revolution" in Ukraine. After all, the Dome is pretty sinister, and I'm sure that it came to Earth to take over.
Another interesting aspect is that the Dome imprisons the people of Chester's Mill, a symbol of traditional America, and the people in the Capitol Dome make laws that restrict the people of America. But the Dome sort of takes care of the people too. For example, it lets air and rain through to keep its captives alive.
Perhaps the Dome will be portrayed as benevolent since there are evil corporate types trying to steal its energy source. Film at 11.