Why would anybody employ a serial killer? Well, a rich psychopath couldn't be expected to get his hands dirty acquiring his own victims, right? Surely such a man should enjoy the convenience of employing a fellow psychopath of lesser means to snatch children off the street on his behalf. But we don't need to speculate because a rather dramatic example of such a case occurred in Belgium in 1996. Here is a photo of the White March where approximately 300,000 Belgians took to the streets – that's 3% of the nation's population: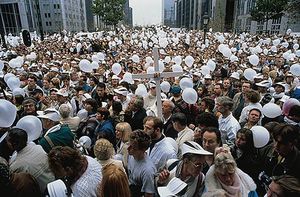 A protest of similar proportions in the USA would number a massive 9.5 million. Why did the Belgians come so close to overthrowing their government? What were their demands? Well, unlike Occupy Wall Street, the Belgians were not the lest bit confused about what they wanted: they wanted the Belgian elite to call off their pet serial killer who was preying upon their children. The psychopathic pedophile in question was one Marc Dutroux.
In 1986, Dutroux was given a 13.5 year sentence for abducting and raping five young girls. Only three years later, a crooked judge turned him loose, and was rewarded with a promotion to a prestigious position. Shortly after that, Dutroux's own mother sent a letter to the warden saying that she suspected that Dutroux was once again holding girls captive in his house. The letter was ignored.
Three and a half years later, police finally searched Dutroux's house. They heard the cries of the girls coming from the dungeon in the basement, but concluded that the voices were coming from the street outside. And Dutroux was allowed to carry on with his grisly business.
Another of the numerous outrageous events occurred after Dutroux was arrested again in 1998. While being brought to the courthouse, police elected not to handcuff him, and Dutroux "overpowered" a cop, took his gun, and "escaped."
Why was Dutroux treated so leniently? Because he wasn't selfish. He was "sharing" his victims with members of the Belgian elite who had a taste for raping, torturing, and killing young girls. A government-owned TV station, RTBF, led the propaganda campaign to cover up the conspiracy (read more here in The Guardian).
One of Dutroux's accomplices told police that girls were "were kidnapped to order, for someone else." So, not only would Dutroux fetch girls for the elite, but he would do it to their specifications! He would also make snuff films to specification for rich clients – a crime very hard for the real police to detect since there is no public marketing involved.
Dutroux's victims were used in pedophiliac parties allegedly orchestrated by prominent Belgian businessman, Jean-Michel Nihoul. Politicians, judges, cops, and other important people were invited, secretly filmed, and blackmailed. And that's why Dutroux got such favorable treatment from the Belgian criminal-justice system, which was obviously run by criminals.
Outrageously, it appears that the photographic evidence of the case was put onto what might be called a "snuff CD" and sent out to the elite. One of the CDs was found in the possession of Belgian Cardinal Godfried Danneels.
Maybe you are thinking that this was a special case; just those crazy Belgians up to high jinks. Well, guess again. Similar cases have occurred in other countries. And while the American people have never had to take to the streets like the Belgians, there have been many suspicious events here.
For example, while George W. Bush was governor of Texas, the state mowed down 152 residents of Death Row. Only one was pardoned: the prolific serial killer Henry Lee Lucas. I reckon something was wrong with his paperwork or something… Funny thing about Lucas: when he was imprisoned in Michigan, he was sent to Ionia State Mental Hospital where he received electroshock therapy. However, the treatment seems to have changed him from a spur-of-the-moment emotional killer, into a cold-blooded killing machine. So, perhaps the electroshock wasn't treatment after all, but rather training – MK-Ultra assassin training. After the treatment, Lucas was released early because the prisons were "too crowded."
Serial killer John Wayne Gacy also received lenient treatment from the courts and police early on. When Rob Piest disappeared in 1978, his family wanted the police to investigate Gacy. But the Des Plaines, Illinois police had a habit of treating such missing-persons as runaways. According to David McGowan in his book "Programmed to Kill" (page 179):
"The Piest family quickly grew angry with the police over their handling of the case, and they began threatening to storm the Gacy house. In order to pacify the family and prevent them from acting on their threats, police agreed to begin surveillance of John Gacy."
Sort of like the Belgians, right? Too bad the Piest family didn't storm the house and find the bodies; that would have been the stuff of legend.
Like Mark Dutroux, Gacy had extensive knowledge of the sins of the local elite by virtue of having helped to facilitate many of those sins. And he was very well-connected in Democratic circles. Here he is with First Lady Roslyn Carter in May 1978: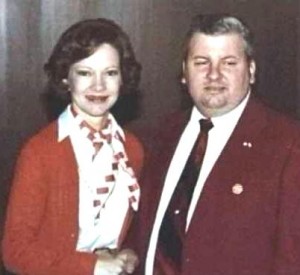 And there's more; lots more. McGowan's book has a radical thesis: that the stereotypical serial killer is largely a myth designed to camouflage the work of the elite's criminal employees.
Note: Roslyn Carter probably wasn't in league with Gacy herself, but the photo shows how it was possible that Gacy got lenient treatment as a "pillar of the community."