The latest data released from the USDA yesterday shows a record 47,791,996 people on food stamps (click chart to enlarge):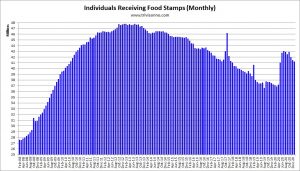 Also, the percentage of the population on food stamps hit a record high in 2012 at 14.83%. See the fifth chart down on my Food Stamps page. You might think that our policy of mass legal immigration would dilute that percentage, but that is not so. Obviously, our economy cannot absorb a million fresh bodies per year.
Virginia's FeedMore food bank provided 15 million meals last year, and is still having trouble meeting the demand – even with so many people already on food stamps. See this blog for the story.