Those of you using my Fractal Stock Grapher app aren't surprised that the rally has paused over the past week because the Fractal Dimension Index (FDI) has been flashing an end-of-trend signal. See the black arrow on the screen-shot (click to enlarge):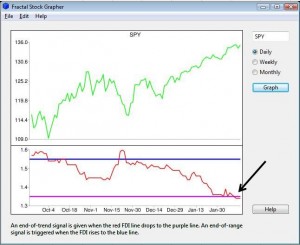 We haven't had a signal this strong on the daily chart since last summer. Here is a chart that goes back farther using my FDI indicator for TradeStation – look at the green arrows: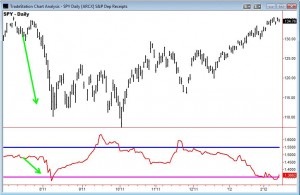 Last summer's downtrend did indeed come to an end as soon as the FDI gave the signal. But what about the fate of this year's uptrend? It is indeed long in the tooth and overdue for a correction. However, the FDI only tells us that the trend is likely to end. The market could just as easily go sideways for a while.
I don't want to be bearish here because the economy is improving, and federal withholding-tax collections are on fire. Yes, Europe is shaky again, but don't forget that the Fed and the ECB have the money spigots wide open, blasting liquidity onto the fire.
And it is also an election year. The Republican candidates have vowed to chop off Ben Bernanke's head, so he has an incentive to keep things bubbly until November. My guess is that a market plunge caused by another European crisis will be another buying opportunity, just like they all have been over the last three years.