General Dwight D. Eisenhower once said:
"You will not find it difficult to prove that battles, campaigns, and even wars have been won or lost primarily because of logistics."
If you surveyed American soldiers serving in Afghanistan about who was the USA's most-important ally, there's a good chance that they would choose Vladimir Putin. Why would they do that? Because our supply lines run through Russia – on the ground and in the air. Below we see an Antonov 225, the world's largest aircraft, which flies a lot of supplies to our troops: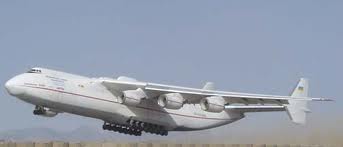 Without Russia's help, things would be considerably less comfortable for our troops. Read more about Afghan war logistics here. And here is an article about all the fuel we buy from Russia.
And when it comes time to pull out of Afghanistan, cooperation from the Russians will be critical. So, the next time that you are confronted with a neocon fulminating about Putin, you know how to disarm him.
The Antonov 225 videos below were shot by U.S. soldiers serving in Afghanistan: