Copy and propagate!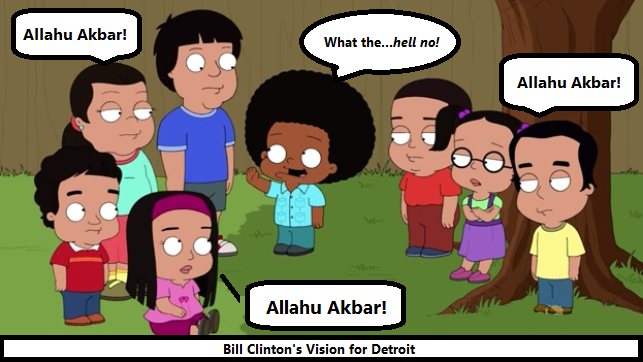 Bill Clinton has a fabulous idea: he wants to re-populate Detroit with Syrian refugees. My guess is that the current African-American residents of the city probably aren't terribly enthused by the notion.
This screenshot is from The Cleveland Show, episode 8 of season 3 titled "Y Tu Junior Tambien" at the 13:20 mark of the commercial-free video. In the scene, the black child, Rallo Tubbs, introduces himself to a group of Latino children:
"Hey! How ya doin'! Rallo Tubs. Great to meet you. Just want you to know I'm cool with you. So, remember this face when you're outnumbering the rest of us in a few years. Rallo Tubs, who is cool…with…you; yeah, don't hurt me."
The scene is a commentary on how Third World immigrants have flooded into black communities. This is an issue that we rarely hear about. For example, you might think that Compton is a black city; but while Compton was once an enclave for the black middle-class, it is now 65% Latino; primarily Mexican.
And there is plenty of conflict. For example, here is a quote from a recent article in the Los Angeles Sentinel:
"Mainly because of the huge increase of Latino immigrants in Los Angeles, many Blacks feel discriminated against and displaced by Latinos, especially in employment."
And Bill Clinton wants to march on Detroit at the head of an Arab Army? A sort of Million Muslim March on Detroit? Now? During an election? Has he lost his mind? Maybe, maybe not. After all, if George Soros were paying him $5,000 a head for every Syrian that he settled in Detroit, then Clinton would just be doing his job as a Soros sales rep working on commission.
So, I have recast the Latino children in the cartoon into jihadi children. If this meme goes viral, it could put an end to Hillary Clinton's campaign, which of course is highly dependent upon the black vote.
If you have a better idea, here is the original frame: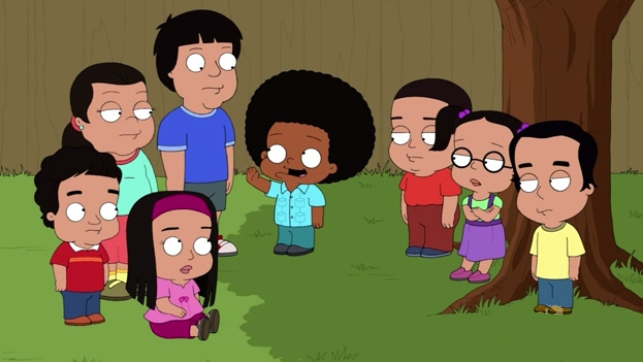 P.S. Rosie Perez is hilarious voicing the Choni character on the show.