The Pope's giant rally on our southern border today is just a tad hostile. I was raised Catholic, but we have to remember that the Pope is not an American citizen, and he shouldn't have any more influence over US policy than does the Queen of England, Vladimir Putin, or the Grand Pooh-Bah of Elbonia.
And the Pope really shouldn't be talking about mass-immigration into the USA. After all, nearly every country south of the border is Catholic. So, why are all of those Catholic migrants fleeing to the Protestant USA?
Similarly, in Europe, migrants don't have the Catholic nations of southern Europe as their preferred destination. Rather, they make a beeline for the Protestant nations of northern Europe.
The truth is that Catholic nations are badly mismanaged, and the Pope would do well to focus on the horrendous condition of his own backyard.
But don't hold your breath; the Pope is a Jesuit after all, and the Jesuits are to the left of Bernie Sanders. Rather, we should brace ourselves for an endless stream of refugees coming out of the Pope's badly mismanaged realm, which is starting look like a giant refugee-production machine.
Here is a map of the Catholic areas of the world (click to enlarge):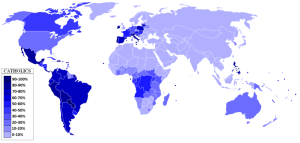 Here is a map of the Catholic nations of Europe: