Friday's jobs report caught investors by surprise, and sparked a buying panic in the stock market. With 248,000 jobs created over the expected 215,000 the Dow rallied 208 points.
But my subscribers at DailyJobsUpdate.com were not surprised at all. Three days prior I sent them this chart showing an acceleration in withholding-tax collections (click to enlarge):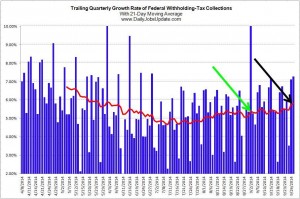 The chart plots the quarterly growth-rate of federal withholding-tax collections over the trailing quarter. So, each bar is the growth-rate of the past 90 days over the corresponding period from last year.
The data is noisy, so a 21-day moving average (red line) is used to highlight the trend. The green arrow points to where the moving average was last month at this time – about 5.25%. The black arrow points to where it is now – about 5.75%. So, that's solid acceleration during September.
Not bad, huh?
If the Fed stops cycling interest rates, does the business cycle go away? Maybe it does; maybe that explains the freakishly steady, if lackluster, creation of jobs. In any case, the moral of the story is that you should go to the Daily Jobs Update and subscribe right now.