Rachel Maddow sat right next to Bill Maher, and didn't say a word, as he gay-bashed figure skater Johnny Weir. Said Maher:
"New rule: someone must tell Johnny Weir more ice and less capades. If I want to see something that gay on ice, I'll order a daiquiri."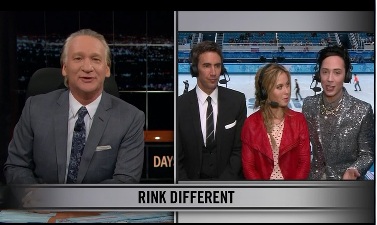 Has Maher ever lampooned anybody for being "too straight?" I doubt it.
I couldn't find the video online of this incident, but it may be up somewhere now if you want to search for it. The incident took place at the 49:05 mark of the February 21, 2014 episode of the "Real Time with Bill Maher" show on HBO.
Was it a coincidence that Maher did that joke with Maddow right next to him? Maybe, but I suspect that he did it on purpose to emasculate her. Maher did the same thing to Neil DeGrasse Tyson back in November. Maher told Tyson that he sounded like Amos & Andy, and Tyson didn't make a peep.
It looks like Maher gets a kick out of demonstrating how spineless his guests are, and how they value being on TV more than their own dignity. As a distinguished scientist, perhaps Tyson doesn't associate much with the type of people who would make racist remarks to his face, but what's Maddow's excuse? What kind of gay-rights activist takes such a thing lying down?
Tyson and Maddow both missed an opportunity to make themselves more famous. They could have made headlines by walking off the set.
On a lighter note, I haven't been watching Maher's show for very long, but years ago he had Artie Lange on and said to him: "Thank you for the dumb opinion." Now Lange does a hilarious imitation of Maher: