Were you shocked by this morning's big jobs surprise? Well, you have only yourself to blame because if you were one of my DJU subscribers, you would have received this chart on Monday night (click to enlarge):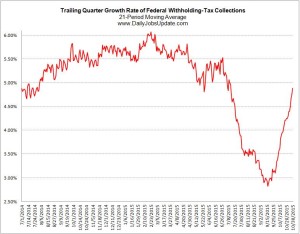 That dramatic "V" turn in payroll-tax collections in October is hard to miss, no? Withholding taxes don't lie. And here's what I wrote in my letter:
"Economists are only expecting 190,000 new jobs to be reported in Friday's non-farm payrolls report. And that is the most-pessimistic forecast of the year. Economists tend to just extrapolate the recent trend, and this dour forecast looks like a consequence of last month's big miss of only +142,000 jobs. So, I think the odds favor an upside surprise on Friday."
Did I nail that or what? Now, go to DJU and subscribe. WTF is wrong with you anyway?