At 1:00pm on Wednesday, CNBC reported that the Koch Brothers had altered their instructions to the Republican Party by sending a letter to Congress:
And the Dow Jones Industrial Average spiked up 60 points (click chart to enlarge):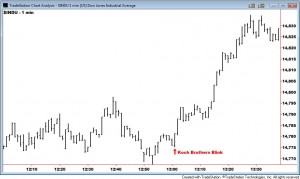 Later on, Koch operative Larry Kudlow shouted into the CNBC camera that the USA would never default on its debt. I guess he got a memo too. (According to Kudlow's Wikipedia page, he is on the payroll of the Koch-funded Mercatus Center.) So, the Kochs have backed off from forcing the USA to default. What a couple of swell guys, huh?
This is one of those rare moments when the camera accidentally pans up to reveal the puppet-masters. Let's see if CNBC reporter Eamon Javers gets fired.
Here are the Koch's new instructions in case you are wondering:
"We believe that Congress should – at a minimum – keep to sequester-level spending guidelines, and develop a plan for more significant and widespread spending reductions in the future. Congress should focus on these efforts: balancing the budget, tightening and cutting government spending, curbing cronyism, and eliminating market-distorting subsidies and mandates."
Now, if you are wondering why these jokers are issuing instructions to our so-called representatives at all, you get a gold star. If you are wondering why Seal Team 6 doesn't pay a visit to the Koch compound, you get a platinum star.
For further details, see this story.