Many people were startled when President Obama said that he favored Larry Summers to succeed Ben Bernanke a few weeks ago. Not only did Summers help to deregulate banking and cause the 2008 financial collapse, but he is also a totally incompetent financial manager having gambled away $1.8 billion when president of Harvard.
Common sense tells us that having a buffoon like Summers as chairman of the Federal Reserve Bank would be a recipe for disaster. So what's President Obama's problem? Does he want a disaster?
Maybe he does.
Obama also mentioned his desire for a strong dollar as part of his rationale for favoring Summers. Since when does Obama care about the dollar? And why does he think that's the Fed's responsibility and not the Treasury Department's? Consider this chart of the CYB yuan ETF (click to enlarge):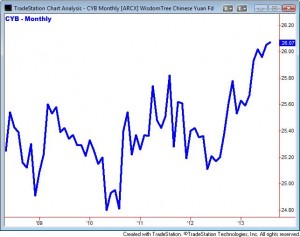 This ETF is at its highest level since its inception five years ago. So, the yuan has appreciated against the dollar during Bernanke's QE campaign – and I don't think that's an accident. Remember that Beijing and their multinational allies fought hard against QE. Republican flunky propagandists like Larry Kudlow campaigned so vociferously against QE that I feared Bernanke would be assassinated. But Bernanke stood tall, and fired his cannons at the yuan/dollar currency peg enforced by Beijing that has been draining the USA of jobs for years.
To learn more about the mechanics of this, read my book. Suffice it to say that the stronger the yuan is, the more it costs Apple to purchase iPhones from Foxconn, and the harder it is for Beijing to steal factories from the USA.
In recent years, the Fed has been the only patriotic institution in Washington fighting against Beijing's death-grip on our economy. And now that must stop because it is cutting into the profitability of the Oligarchy's sweatshops. So, they are trying to seize control of the Fed. Larry Summers might end QE to strengthen the dollar – even if it involves plunging us into another recession.
And there is precedent for this: in 1979, David Rockefeller toyed with the idea of taking the chairmanship of the Fed. But he decided against it because he didn't want to suffer the bad publicity from the "tough measures" he would have to institute to combat the so-called "wage push inflation" of the time. So, he sent a hatchet man instead: Paul Volcker, who promptly raised interest rate to the moon and inflicted a brutal depression on the USA. Volcker kept squeezing until their was a mutiny at the Fed and Volcker was kicked out. It's a great story, so again, read my book. And remember that when it comes to corporate profits, the Oligarchy will stop at nothing – not even putting a dufus in charge of one of the most important institutions on earth.