During last night's presidential debate, Mitt Romney briefly mentioned food stamps. At that moment, there were five people on my blog. Sixty seconds later, there were hundreds. Here is a snapshot of Google Real-Time Analytics (click to enlarge):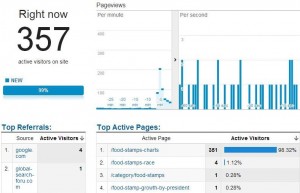 That spike was an order of magnitude larger than any spike I have ever noticed on my site. Imagine if Romney and Obama had actually discussed food stamps. Sixty seconds of that, and I would have had thousands of people.
However, this is very low-value traffic. People were just doing a quick fact check, and I only got a couple of ad-clicks. So, the whole giant spike only generated a couple of dollars in revenue. But it was fun to watch.