Almost two years ago, I created a "slave labor" category on this blog, and wrote the first post in that category: "Caught Slaving – Again." Since then, I have been crusading against the return to a slave-labor based economy – pretty much a one-man crusade. So, I was shocked to see slave labor discussed on CNBC, of all places, on Friday's episode of The Kudlow Report. And it wasn't a Democratic pundit who brought it up; it was Republican Ann Coulter. And she also brought an argument that you normally only hear from Democrats: that "welfare" programs like food stamps are really a subsidy to companies that employ workers at slave-labor wages. For example, near the end of the video below, she says:
"I'm subsidizing the cheap businessman's cheap labor."
Coulter also thinks that the 14% jump in young black men voting for Romney is because of his tough position on immigration. I have outlined in red the polling data from Pew Research: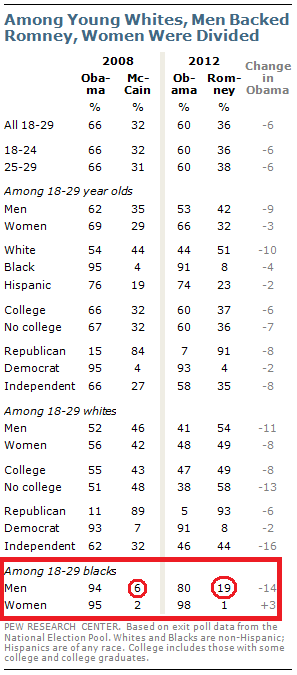 As far as I can tell, nobody really knows why so many young black men ditched Obama. However, it is indeed possible that Coulter is correct, and blacks are becoming increasingly aware that their high unemployment rate is due to mass immigration. I'm sure that Romney personally fired many African-Americans as he was shipping jobs to China en-masse during his long destroying-America career, but there was more noise about his immigration position during the debates, what with "self-deportation" and all. So, it is indeed plausible that that is the reason why those black men switched parties. They just want their jobs back, and Obama has not delivered, but rather has made things worse.
Of course, we don't want to give too much credit to Coulter, because like she said in the video, under the "right" circumstances she would erase the USA's borders just as eagerly as Kudlow and Norquist would. And the minimum wage; and child-labor laws, etc. However, if subsequent research finds that blacks do indeed want an end to mass immigration, the Republicans might seize the opportunity to steal the black vote from the Democrats.
And then the "Party of Lincoln" would have come full circle. The Republican Party was formed to end slavery, and that's exactly what their first president, Abraham Lincoln, did. However, in recent decades, the Republicans have pulverized the black community under the globalist, neoliberal "leadership" of David Rockefeller. Their jobs have been sent abroad, and what few remained have been taken over by a massive wave of immigration – all in the name of cheap labor.
It's hard to believe that the Republicans would once again fight against slavery, but I don't see the Democrats racing to do it. In fact, I see even the labor unions agreeing to a larger tidal wave of immigration. And it might be the only way for the Republican Party to survive, because as we saw in 2012, Asians and Latinos are running away from them.
Today, all three major political factions are neoliberal: Republicans, Democrats, and Libertarians. But as the Urban Intifada intensifies, it is very possible that the first party to turn against neoliberalism will be the party that carries the day in the future. Neoliberalism is the cancer just waiting for a political party to come along and win glory by excising it.