Here is a chart showing the 21-day moving-average of Federal withholding-tax collections, compliments of the distinguished gentlemen over at DailyJobsUpdate.com.
As you can see, the average has dropped into the $5.5 billion range – the lowest level in a year!
KABOOM!!!
(click chart to enlarge):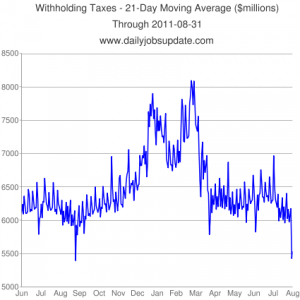 Ha, ha! Gotcha! Hope you liked my "Tyler Durden" impression! Just a little "NFP Eve" jobs humor!
If you know what's wrong with the interpretation above, you get a gold star. Tell your mom that I said it was OK.
Of course, tax revenues always drop this time of year. The next chart is the same as above, but from one year ago: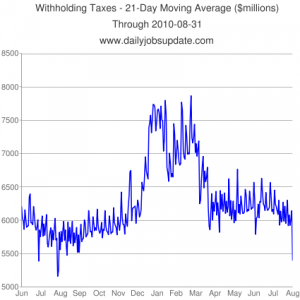 Almost identical, right? However, the upper chart has not been adjusted for this year's big social-security tax cut. So, it would be substantially higher if it were not for that. And that makes sense because the jobs that the economy has added over the past year are still there. Maybe we are tipping over into recession, but there is no sign of that yet in the withholding-tax data.
Do you think that it's just a coincidence that September is the worst month for the stock market? Or could this seasonal slow-down in economic activity influence the market?
Note: It is possible to make such moving-average charts of the withholding-tax data because it is reported every day, unlike other economic data that is only reported weekly, monthly, or quarterly. The charts above, and more, are updated every day at DailyJobsUpdate.com.