A month ago, I reported on a new single-day record for withholding-tax collections, and some people thought that it was just an anomaly. Well guess what? That record has been smashed. The February 4th record was $32.241 billion, and yesterday, March 3rd, the IRS raked in $35.500 billion from the paychecks of American workers. Here is Table IV from today's release of The Daily Treasury Statement: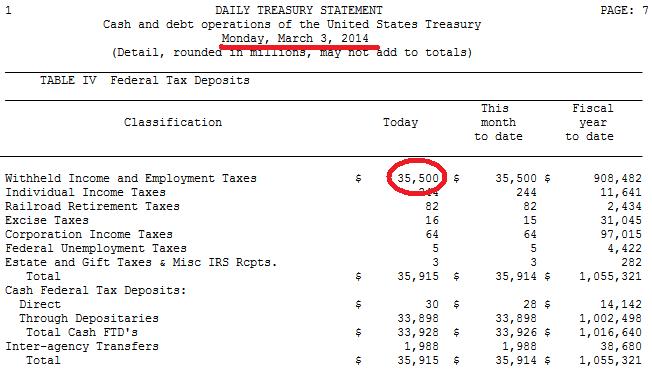 A jump in collections such as this is practically impossible without a substantial expansion in payrolls. Despite weakness in recent non-farm payrolls reports, the annual growth rate of withholding-tax collections is actually accelerating. Take a look at the red line on the chart on this page (if you subscribe to my DJU website.)
How much is $35.5 billion? It's 18 times bigger than Ukraine's annual defense budget. It's enough to buy three Ford-class super-carriers, which retail at $11.3 billion (fighter jets not included).