At the 1:25 mark of the CNBC video below, Art Cashin says:
"…if tax receipts are slowing down, which is the gossip in Washington…"
Mr. Cashin did not present any data, or even state that tax revenue are slowing. He just threw out a rumor clothed in weasel words. And keep in mind that Cashin has been comically bearish for years now.
In any case, withholding-tax revenue is not slowing at all. We can't get a clean look at the annual growth rate because we had a payroll-tax holiday in 2011 & 2012, but if we compare to 2010, we have been running at a steady 17% rate for six months, with not even a microscopic slowdown in sight (click chart to enlarge):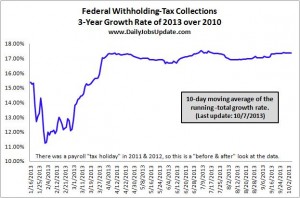 Of course, if enough federal workers are furloughed for long enough, we might see the growth rate tick down. But that would not be because of a slowing economy.
Note to bloggers: you may use this chart on your blog as long as you link to my DailyJobsUpdate.com site where the chart is updated each day.