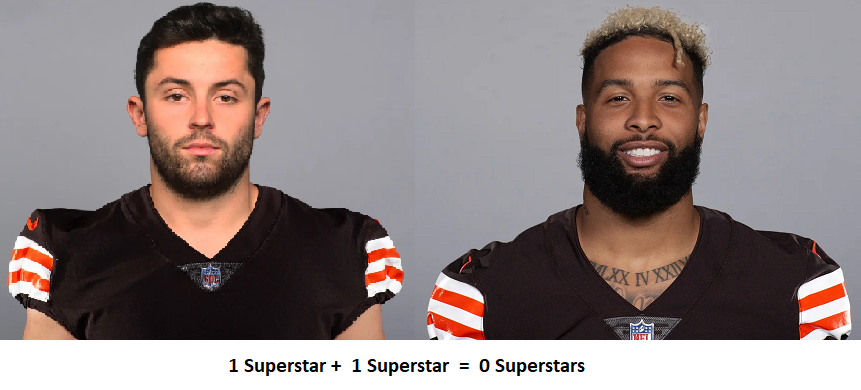 Executive Summary
Having lost all the games in 2017, the Browns got to pick first in the 2018 draft, and selected the Heisman Trophy winning quarterback Baker Mayfield. During his first year, Mayfield broke the record for most touchdowns thrown by a rookie quarterback, and broke several franchise records. The Browns improved to a 7-8-1 record, and finished strong, winning 5 of their last 7 games. Cleveland was ecstatic, and looked forward to further improvement in 2019.
The pandemonium reached a fever pitch on March 13, 2019 when the Browns traded for Giants superstar wide-receiver Odell Beckham, Jr. All of a sudden, everybody was talking about winning the Super Bowl. Then, in Week 1 of the 2019 season, the Browns got their faces smashed in by the Tennessee Titans, losing by a score of 43-13.
The world was shocked; nobody saw it coming. Fans, analysts, management, coaches, even the players couldn't believe it. The Browns actually regressed on the year, finishing with a 6-10-0 record. Even worse, Baker Mayfield's quarterback rating plunged to 78.8, just barely above the last-place Andy Dalton's 78.3.
Everybody blamed head coach Freddie Kitchens, who was fired. The new coach, Kevin Stefanski recognized that he had the very worst QB/WR duo on his hands. Baker & Odell were literally, the worst duo in the league, and Stefanski's solution for the 2020 season was a scheme that downplayed their roles. Baker would become a "game manager" QB, throwing mostly quick, short passes to his tight-ends, and OBJ would do a lot of blocking for Nick Chubb as the Browns became a running team. It worked; while Baker & OBJ continued to stink, Nick Chubb, Kareem Hunt, and Wyatt Teller carried the team to a 4-2 record to start the 2020 season.
Then the world changed.
In Week 7 versus the Bengals, OBJ tore his ACL and was out for the season. Mere minutes later, Baker began a streak where he threw 22 complete passes in a row, breaking a franchise record. Baker went on to play at an elite level for the rest of the season, leading the Browns to the playoffs for the first time in 17 years, trampling the hated Pittsburgh Steelers in the process.
It was during this period that we learned exactly what the problem was. First, in October, ESPN published definitive stats proving that Baker was a bad QB when throwing to OBJ, but a superb QB when throwing to his other receivers. Then, after the victory over the Giants in Week 15, Baker said:
"We're not trying to force the ball to anybody. We are trusting our progressions and play calls. We're taking what is there and keeping the chains moving."
Elsewhere, Baker said that if he saw OBJ had man-to-man coverage, he would abandon the play-call and just throw the ball to OBJ. In other words, much of the time, the play effectively was "throw it to OBJ" which, as we can see from the stats, does not work.
So now, the drama is: will the Browns go back to Shawshank? Will they put OBJ on the field for the 2021 season, and once again make their elite QB look like a schlub? Or will they trade OBJ and let Baker continue to thrive, and no doubt, make another trip to the playoffs?
I will continue updating this page until OBJ has been traded. I will also flesh out the details as there is quite a lot more to this saga. In fact, this story should be a chapter in a how-to-manage football textbook. The most important thing we have learned here is just how powerful chemistry is. Think about it: if you give Baker Mayfield OBJ to throw the ball to, he stinks. But if you give him Rashard Higgins, he transforms into an elite QB vying or the Super Bowl. Fascinating, no?
The Browns' Official Position on OBJ
After the 2020 season ended for the Browns, the media asked HC Kevin Stefanski and GM Andrew Berry if OBJ would be with the team for the 2021 season. Both said that he would be. However, if they were planning to trade him, you would expect them to speak in glowing terms to talk-up his trade-value. Currently, the Browns are trying to fix OBJ with Coach O'Shea retooling OBJ's route-running (see below). So, it looks like they will be putting him back on the field for the 2021 season.
The Cult of OBJ that Grips all of Cleveland
If OBJ is allowed to break Baker Mayfield, yet again, then we will be forced to question the team's dedication to winning football games. What else could they possibly be trying to accomplish? Perhaps they are trying to assuage a small-market, inferiority-complex by basking in the glow of the national-media spotlights which OBJ brings with him wherever he goes.
Do the players, coaches, front office, owners, reporters, and the city of Cleveland itself actually want to win football games? Or are they content with being OBJ fanbois? Does the whole damn place need to be deprogrammed out of OBJ's Svengali-like grip? Note to Cleveland: snap the fuck out if it already! What the hell is wrong with you! The Super Bowl is yours for the taking!
Can OBJ be Fixed?
Nothing is impossible, and I am definitely not for giving OBJ another chance. However, despite his hyper narcissistic personality, OBJ has reigned himself in twice already.
First, OBJ used to antagonize the NFL on a regular basis. I believe that the NFL retaliated by giving DBs (especially Marlon Humphrey) free-reign to interfere with OBJ, and that dramatically reduced his production. After I excoriated OBJ for this nonsense back here, he stopped messing with the league.
Second, a big reason as to why the Giants traded OBJ in the first place may have been his public criticism of his quarterback, Eli Manning. (See this ESPN story.) OBJ has not criticized Baker Mayfield, or anybody else since he joined the Browns.
Also, when Coach Stefanski installed his new run-oriented scheme for the 2020 Browns, OBJ was accepting of what promised to be a diminished role for himself. (See OBJ's comments in this video.)
So, OBJ is capable of change, and at least acting like a team-player. Can he now stop distracting Baker and let the QB do his job? Maybe; it's not impossible, but I am not willing to take the risk with the Browns' offense humming like it is now.
The Statistical Evidence of the OBJ Albatross
OBJ began his career with the New York Giants; played from 2014-2018; and then was traded to the Browns. During his time with the Giants, the team went from being a winning franchise, to being a loser. See what I wrote in: "The Only Way Odell Beckham Jr. Will Ever Get A Super Bowl Ring."
When OBJ is on the field, Baker Mayfield's performance suffers badly. For example, his "yards-per-attempt" stat drops sharply. See what I wrote in: "Paying the Odell Tax: 365 Yards per Season."
This ESPN story was the statistical bombshell that proved OBJ's negative influence on Baker. It's hopeful conclusion was dead wrong, but the stats presented were 100% damning to the idea that the Browns should bring OBJ back for another season.
Cast of Characters: Freddie Kitchens
OBJ joined the Browns in 2019 at the same time as Freddie Kitchens was named head coach. So, Freddie had a big problem to deal with right off the bat. But even worse, the trade with the NY Giants that brought OBJ to the Browns created another huge problem: it sent Browns ace guard, Kevin Zeitler, to the Giants, thereby creating a gaping hole in the team's elite o-line unit.
So, Kitchens was not able to carry over his success as offensive-coordinator during the back half of 2018 to 2019 because the Browns front office simply detonated his offense.
To see what a disaster this was, consider that PFF rated the Browns' o-line as second best in the league in 2018. Here is what they said (link):
"With high priced free agents at center, right guard, and right tackle, the Browns gelled into one of the league's top units over the second half of the year. Their interior offensive linemen – left guard Joel Bitonio, center J.C. Tretter, and right guard Kevin Zeitler – combined to give up only 39 total pressures on the season."
Without Zeitler, the Browns regressed in 2019 as the o-line sank to #23.
Before his acerbic remarks quoted below, Kitchens was glad to have OBJ joining the team. In fact, when the Browns were criticized for not having a first-round draft pick after trading it to the Giants, Kitchens replied: "Yes, but we have Odell Beckham, Jr." In other words, he thought that OBJ was far more valuable than the #17 overall draft pick that the Browns traded for him. Little did he know…
Freddie was quickly disillusioned (link):
"With a mandatory mini-camp looming next week, Kitchens was asked by reporters at the Browns' training facility what he wants to see from Beckham. "I just want to see him," the first-year coach replied. Asked what Beckham has missed out on by being almost entirely absent since getting traded from the New York Giants in March, Kitchens replied: "A lot. The offense."
After OBJ helped the Browns regress from 7-8-1 in 2018 to 6-10-0 in 2019, Kitchens was fired. But did he get a bum rap? I may be Kitchens' only defender, but yes, I think he did indeed get a bum rap. In fact, I would go as far as to say that he did a good job limiting the damage that the front office's catastrophic OBJ trade caused.
Cast of Characters: Rashard Higgins
Rashard Higgins was drafted by the Browns in 2016, so he was present when Baker Mayfield joined the team two years later. Hig & Baker very quickly established a preternatural chemistry, which allowed Hig to make many clutch catches, winning him a lot of fans in 2018.
But the Browns placed little value on that chemistry, and traded for Odell Beckham, Jr. in 2019. While Hig missed a few games due to a knee injury, it was OBJ sucking the air out of the room that limited Hig to a mere 11 targets for The Great Regression season of 2019.
Freddie Kitchens benched Hig without giving a reason. At the beginning of the 2020 season, the Browns' new head coach, Kevin Stefanski did the same thing: he benched Hig for no reason. Considering that Kitchens, who is considered a failure, and Stefanski, who was Coach of the Year, both benched Hig, it is very likely that the call was made in the front office, and the coaches were told to stay mum on the subject.
So, it was likely Mr. Analytics, Paul DePodesta, who is responsible for kicking Hig to the curb, literally, and stripping him of his #81 number while he was off the team. That's how Austin Hooper got #81 and Hig got #82 when the Browns finally came to their senses and signed him for the 2020 season.
During the the run-up to OBJ's injury in Week 7, Hig only had six targets. He was designated a "healthy scratch" and wasn't even allowed to wear the uniform for three games. He only got to play again after a series of injuries to other Browns receivers.
So, when OBJ got hurt, Hig was suited up and ready to play. Baker targeted him six times, and Hig caught all six. That was during Baker's 22-game franchise-record completion streak. So, Hig accounted for 27% of those completions. And the duo was off and running, just like the good old days of 2018, despite the goon in the front office glowering down.
Higgins has some surprisingly impressive stats. See what I wrote here: 12 Stats Where Rashard Higgins Beats Odell Beckham, Jr.
Cast of Characters: David Njoku
Another of Baker's favorite targets from 2018, TE David Njoku was benched along with Higgins, and also could not get targets when OBJ sucked all the air out of the offense. Like Higgins, Njoku reblossemed in the second half of the 2020 season when OBJ was injured. So, by "rediscovering" Higgins & Njoku, the Browns were finally dragged kicking and screaming into recreating the magic of Baker's rookie season of 2018.
A QB is only as good as his receivers, and Higgins & Njoku should be on the field for virtually every snap. Unfortunately, they are poised to be disregarded again as their big-money "upgrades" OBJ & Austin Hooper get the lion's share of the targets in 2021.
Cast of Characters: Chad O'Shea
O'Shea is the Browns' wide-receivers coach who is trying to fix Odell. Here is what he said when asked about Odell in the spring of 2021:
"I think the one thing that's been great for him to see is we've gone through a lot of the film this off-season already with Odell and showed him the things that he can be a part of offensively for us and be a productive player, and be a big part of our offense that we now have evidence of on film that we didn't have last year…hey, this is where you're going to be, this is how you're going to run the route, and this is how you're going to win the route. That's been something that's been very good for him, spending time the last several weeks, to be able to go through that process and to envision himself in how he can be a big part of this offense."
This was a landmark comment because it showed that the Browns recognized the problem and were actively trying to solve it. O'Shea is trying to fix Odell, and if he succeeds, it will make Browns history, and perhaps NFL history. See what else I wrote about it here.
However, don't be surprised if O'Shea gets overruled. There doesn't seem to be any trace of this on the web, but just before the 2020 season began, Rashard Higgins said that Coach O'Shea had named him the #3 wide receiver. If memory serves, Hig said that to reporters. Then, Coach Stefanski said "not so fast" and Hig only got one target in the first four games of the season. So, we can only pray that O'Shea has authorization from on-high for his OBJ retooling project, and is permitted to see it through – even if it comes down to benching a non-compliant OBJ.