In early 2019 when people were remarking that the Browns had no first-round draft pick, coach Freddie Kitchens responded: "Yeah, but we have Odell Beckham, Jr."
Wrong again Freddie. OBJ did not help the Browns win more games during the 2019 season. In fact, the Browns slipped from 7-8-1 in 2018 to 6-10 in 2019. Turns out, having 14 million Instagram followers doesn't make you a great player.
And no, OBJ is not the best wide receiver in the NFL. He's not even the best receiver on the Browns. That title belongs to Jarvis Landry who had 1,174 yards in 2019; the 10th best in the league. Beckham barely squeaked over one thousand, finishing in 26th place with 1,035 yards. Yes, OBJ was not at 100%, but neither was Landry, and both players had surgery right after the season ended.
What I find truly absurd about OBJ is his off-the-charts level of narcissism. OBJ went over 1,000 yards during the last game of the season against the Bengals (early in the 4th quarter). When he achieved this oh-so-fabulous milestone, he took himself out of the game, sat down on the bench, and put a towel over his head. He was all verklempt, and had to shield his eyes from the beam of pure, white-hot light pouring down upon his glorious personage. But his team was losing, and if he has such a high opinion of himself, why did he stop trying to win the game?
Answer, because OBJ doesn't give a shit about the Browns.
Odell sat out for a play or two, and then came back in the game, but the drama show was ridiculously unprofessional.
And nothing has changed since then. In early May of 2020, Beckham released a video updating fans on his recovery from surgery, and was roundly criticized for his narcissistic attitude. Nowhere in the video does Beckham say the words "team" or "Browns." Just the opposite; Beckham declares:
"This is my time. That's all."
See for yourself:
Is OBJ telling coach Stefanski and Baker Mayfield: "throw me the ball, or I will demand to be traded?" Because if that's what he means, I say just trade him now. If Stefanski and Mayfield capitulate to OBJ, then the Browns will have yet another disappointing season.
Beckham's declaration is an insult to the entire Browns receiving corps – including his best friend Jarvis Landry. And I don't even think Beckham will make it through the season without yet another injury. In fact, the only way he will make it into the season is to skip practice and the preseason because Beckham is made of tissue paper.
While Beckham is the same size as Jarvis Landry, Beckham gets rag-dolled a lot when being tackled. It's like watching the Broncos 5'8″ Phillip Lindsay – you brace yourself for him getting smashed by a lineman twice his size. But even Lindsay is more durable than Beckham.
While Beckham and Landry are virtually twins, Beckham's yards-after-catch (YAC) were a paltry 331 in 2019, #44 in the league. By contrast, Landry's YAC was #18 in the league at 440. Landry had a few more catches than Odell, but his average YAC is still higher at 5.25 vs Beckham's 4.40.
And of course, Landry is the Browns' team leader, while OBJ is the exact opposite of that; whatever you might call it.
In May 2020, while the Browns facility was on coronavirus lockdown, Baker Mayfield hosted some of his receivers and tight-ends in his hometown of Austin, Texas. Rashard Higgins, Damion Ratley, Austin Hooper, and David Njoku were there. Meanwhile, Beckham was frolicking in a fountain. Literally. Frolicking. (Click photo to enlarge.)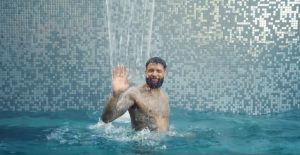 In all fairness, Jarvis wasn't there either, but at least he was mentoring Browns rookie Donovan Peoples-Jones in Deerfield, Florida where both players were training.
And of course, wide receivers are known to be narcissists; but I think OBJ is a narcissist among narcissists. Imagine if he were to show up at training camp with a Nick Chubb style attitude. That would be incredible, but I'm not holding my breath.
If the NFL had a Harlem Globetrotters type of team, Odell would be perfect for it, doing his one-handed circus catches and whatnot. But short of that, I am not a fan, and would like to see him traded ASAP. The Browns could use a linebacker, and I hear that Joe Schobert guy in Jacksonville is pretty good. Or maybe the Browns could trade him back to the Giants straight-up for Jabrill Peppers or Kevin Zeitler. Just kidding; the Giants would never go for either trade. What the Browns need to find is an unsuspecting, linebacker-rich wide-out poor team to dump OBJ on.
Note to Odell: the first rule of football is DON'T RUN BACKWARDS:
Oh boy. Odell…. what are you doing??pic.twitter.com/RZF0CRd076

— NFL Update (@MySportsUpdate) October 8, 2019
That's the way a narcissist returns a punt: he thinks he can juke the entire coverage team. Remember when Jabrill Peppers returned punts for the Browns? Those were the days…until the Browns sent him to New York for OBJ.
So, that's our second red flag for the 2020 season. OBJ needs to be reigned in, or traded. He is a walking red-flag.